Hello friends at present time most of the person works on the computer, laptop, tablet. Most of the time we have to prepare presentation to demonstrate our products, ideas and many more things but most of the person doesn't have proper knowledge how to create or make video of power point presentation.
Any person easily create text, apply different kind of animation effects, audio, video, photo album and many more in the PowerPoint. Today we have to discuss how to create any video presentation in the PowerPoint. It's very simple and easy to make any video in your PowerPoint presentation. It is easy and you Just follow some given simple steps to make it. This is a video tutorial of this process. Have a look.
Must Read: Best apps to watch movies and videos online on Android and iPhone
Easily make video of power point presentation
First, we have to know about what is a power point? Ans. PowerPoint is an application software in which you can easily create your presentation which is developed by Microsoft Corporation. In your presentation you can easily and quickly insert any text, images, graphics, video, audio, animation effects and many more in different slides, handouts, notes and outlines.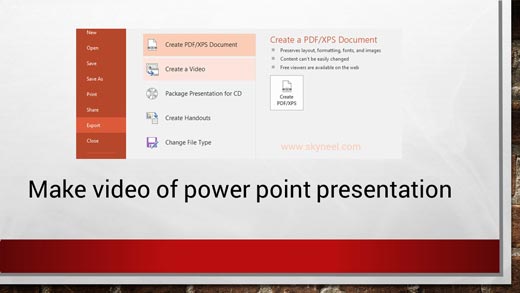 In presentation you can show your plans, strategy, goals, and expectations in a fast growing market. In a presentation you can add audio or video to attract your audiences and show them your thoughts or view in a meeting or seminar.
Must Read: Google provides Quickoffice app free for all Android and iOS users
Some time we are facing many problems in running PowerPoint presentation like office file format is not supported or not run all effects, etc. It is a great idea to make a backup video of your PowerPoint presentation. It is not difficult, this option available in Microsoft office. I try to make this process video for you.
I hope you like this make video of power point presentation guide from which you will be able to easily make video of power point presentation without any extra efforts. If feel any problem in this guide then please use comment box. Thanks to all.