People use internet to watch movies, but now as smartphone came in hand of people, tendency watching movie on smartphone is becoming very popular nowadays. PC, laptop etc. replaced by smartphone for watching movies as it is very convenient for people to watch movie on smartphone anywhere anytime. You just need to the knowledge of some apps which can help you to watch movie easily on smartphone. There are so many kinds of for watching cricket, games, serials on smartphones. Same there are apps for movies too to watch on smartphone.
Best apps to watch movies videos online on Android and iPhone
People who are fond of watching movies online they have many options of different apps on Google Play and iTunes store. In these there are free apps available for Android phones and for iOs some apps are payable. Trend of live TV and movies streaming increased nowadays. In this article we will discuss about those apps which help users to watch movies online.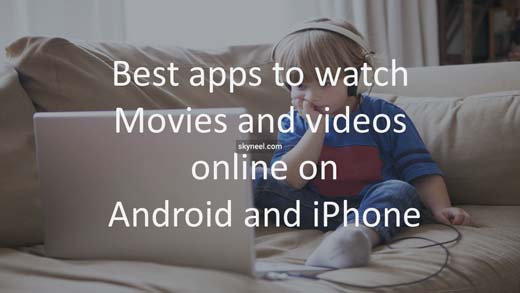 DIRECTV
This app is also available free. Using this app user can stream movies, videos and TV serials easily. This live streaming app supports many channels like HBO, Cinemax, Starz, Showtime, Encore etc. user can easily change channels and can records videos easily too. On social site user can share links and comments also. This app can only downloaded by only those users who has subscribed DIRECTV. For this app user need 2.2.3 or above Android version.
Can I Stream It?
This free available apps seems like a search engine. By putting any specific keyword user can watch movies according to their choice. This app is connected with online libraries like iTunes, Hulu, Redbox and Netflix. Through streaming user can see any video of movies which are saved in these libraries easily. For this app user need 2.2 or above version of Android.
Dish Anywhere
This app can be downloaded from Google Play and it is available free. This app shows original and recorded program to users on smartphones. In this app user can search any movies by using title name, genre, network, keyword, or name of any actor.
Hubi
Hubi is a very famous free available app which is develop by MegaDevs Company. About 39 sites can be access by using this app. In these YouTube, FileNuke, 180 upload sites are included. Users can removes ads and they can easily share links of movie with their friends too. User can download this app from Google Play store. To download this app user should have Android 2.2 or above version of it.
MAX GO
This app is made by HBO makers and it is also free. By this app user can make customize watch list. For serials and movie streaming this app is very useful. User can see whole series of serials using this app. User can find MAX uncut and behind the scenes on this app.
Google Play Movies & TV
This free app can stream any video on Android phone which is downloaded from Google Play store. So never forget to download this app from Google Play after downloading of any movie or TV show form Google Play. User can see any content without wireless connection.
Movies Anywhere
This app is free available on iTunes store. Size of this app is 21.2 MB. For this app users need iOs 7.0 of above operating system. This app is made for iPhone 5 or above version of it.
Mobile TV
This Mobile TV app is an extension of AT&T which can stream any TV serials and videos.  User can see daily show, MLB games Glee also on this app. Along with it user can see news channels too on this app. Many channels like ABC news, 24/7 breaking news channels available on thi s app. This app is available free on Google Play.
Must Read: Five Free apps : To watch live IPL 2014 on your smartphone
Air Video
This is a paid app which works on iOs system. User can download this app from iTunes store at 2.99$ or about 179.91 rupees. It is very famous app. Instead of synchronizing video this app gives facility to users to see videos on air.
Netflix
This app is available free for iOs operating system. By this app user can see all videos which are available on Netflix library. This app is not only work for iPad and iPhone, but it works on Android devices too. Users get pause and resume button too in this app.
I hope you like this best apps to watch movies videos online on Android article from which you will be able to easily watch movies videos online on Android phone without any extra efforts. If feel any problem in this guide then please use comment box. Thanks to all.