Hi, today we know how to remotely control your Computer with TeamViewer. Lot of time we are facing problem during doing routine jobs on your computer system. If you have little bit knowledge of software or hardware or how to install or remove any program from your system you must have to call any expert hardware or networking professional person. For this they have to charge heavy amount to resolve your computer problem.
But there is an another way from which which you can easily overcome your these routine computer problems with the help of TeamViewer software. Before using the TeamViewer you must have to know what is the TeamViewer and how it could be helpful for you.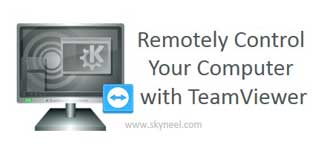 What is TeamViewer?
TeamViewer is a computer software for provide remotely control your Computer with TeamViewer facility to other computer with the help of internet. After connecting between two computer you will be able to easily sending or receiving any kind of message to each other, sharing your desktop area and other drives, use web conferencing facility and also transfer file from one computer to other. There are different versions available on internet for Windows, iOS, Android, Mac Operating Systems, BlackBerry and many more of TeamViewer software. You can easily download any of one software for your desktop pc, notebook. tablet or mobile.
Must read: How to make Speaking Notepad Computer Talk
How to Remotely Control Your Computer with TeamViewer?
For example you have an issue on your computer like preparing any report, install or remove any software, turn on or off sharing or networking mode or any other issue then you talk to any expert how to resolve this kind of problem he told you solution but you not able to understand how to do this work. In that case you have to use TeamViewer software, which give rights to other person to use your computer system from other location and you can watch how could he solve your problem with the help of internet facility. So you have to take few important steps which solve your problem with this software. TeamViewer is easy to download and free to use software which link two computers, mobile phone and tablets.
Step 1: First you have to download and install TeamViewer software on client and parent computer both.
Step 2: Both computers are connected with internet at the same time.
Step 3: Open the TeamViewer software by double clicking on the TeamViewer icon. You will get your computer User ID and Password Allow Remote Control which is placed in left side pan.
Note: Before starting this process write down other person's means client computer User ID and Password both on your notebook.
Step 4: Type your partner user ID in the Partner ID box on right side Control Remote Computer pane. If you want to take remote control facility of your partner computer then click on the Remote Control button or if you want to transfer files from one computer to another computer then you have to click on the File transfer button.
Step 5: Now click on the Connect to partner button. Now you will be able to see your partner desktop screen on your computer and now you can do any kind of job as per your need on your partner computer.
Note: Always remember if your computer will be shut down or your internet connection is lost then again you have to set your partner user id and password, to connect your computer with your partner computer with the help of TeamViewer software. If your internet connection is slow then you will take additional time.
Must read: How to secure your computer from Hacking Attack
There are different other remote control software available on internet but TeamViewer software is free to download and easy to use means user friendly software which is easily controlled by the novice users. Please give your important suggestion regarding this article in the comment box. Thanks to all.