To prevent hacking attack on your important information we have to know about hackers. Hacker's uses latest technology and different tricks to hack your personal and confidential information like bank account user id, password, email account, business phones and many more.
Most of the time compute hacking is done when if you want to update or modifies computer hardware or different software. Peoples who hack your computer are known as hackers. Hackers are very expert they know all things about all things on the computer, they uses the latest technology to attack on your computer.
No matter how safe you think you are being online, by chances if you are creating at least a rare fault that negotiation the reliability of your individual report. Below I am providing you some simple tips and tricks from that, you can ensure your PC will remain secure from the ongoing threat posed by hackers.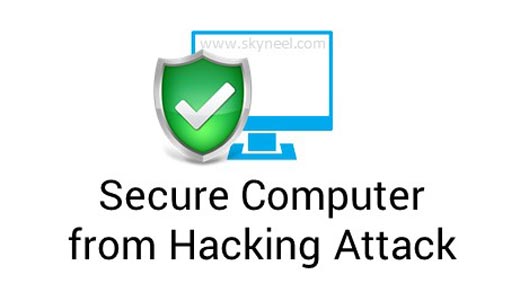 Must Read: Secure Facebook with SMS Authentication
If you care about your personal information, your online reputation, and your files, then it is every essential that you do routine protection of your computers. Please do' not  worry, regarding to facing this kind of problem because I am providing you some useful tips and tricks for prevent your computer from hacking attack  from hackers.
Precautions to avoid hacking attack on your computer:
1. Update required your computer web browser and operating system software.
2. Clear the cookies and cache before you turn off the computer.
3. Install antivirus, antispyware and firewall software and update them on regular basis.
4. Don't use pirated software, floppy disk, CD-ROMs or pen drive on your computer.
5. Avoid visiting illegal and adult websites and also use pop up blocker on computer.
6. Set complex password on your computer and all important passwords which you used on Net banking, open Google account and also remove admin rights for other users. To maintain security of your personal and banking information change your password after some period.
Must Read: Stay safe and secure by creating a secure password
7. You should take regular backup of your important data.
8. Don't share your personal and confidential information with others.
9. Careful with your unwanted or suspicious emails and delete these emails.
I hope you like this secure your computer from hacking attack guide from which you will be able to easily secure your computer from hacking attack without any extra efforts. If feel any problem in this guide then please use comment box. Thanks to all.