It is said that one need experience to catch a lie of a person, but now technology developed too much that through smartphones you can catch a lie of anyone easily. A special app is designed for smartphone which will help to detect the lie of anyone. This app is used to easily catch lie of any person during asking any questions and this app is available with the name of LIE DETECTOR APP.
LIE DETECTOR APP
User can download this app free from Google Play store easily. Through this app you can make to feel others that your smartphone really have lie detector.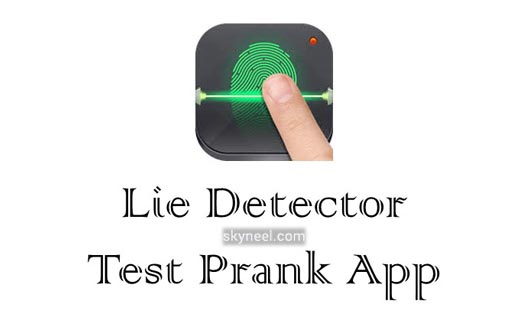 In this app user have to first scan finger before opening screen lock. During this scanning your phone will be vibrate, which give the impression that scanning is really in process. Before scanning you can yourself prepare result of scanning. After settings done your app will give same result that you set.
Must Read:  How to make free call by Facebook messenger on Android and iOS
Lot of person are not telling us truth during talk to us. As per current fast growing technology a latest app comes by the name of Lie Detector App This app is worked like a detective, it is used to scan your thumb fingerprints either left or right doesn't matter on the scanning pad of your mobile and then decided that are you trying to tell lie or truth. This app is not providing 100%, but it is a very nice and important app which you can use to scan your thumb for general purpose.
It has a list of features, have a look:
1 During the scanning you feel some vibration on your thumb.
2 Adjust scan speed as per requirement.
3 You can share result of deduction with your friends on FB.
4 Sent any kind of jokes to your friends.
5 Use this app to take your all friends impression.
Must Read: Microsoft launch free Office suite app for Android and iOS
About 1,000.000 people installed this app from Google Play Store. If you also want to download this app, then for this your phone should have Android 2.2 or above operating system. This is totally a fake app through that you can make anyone fool. Download and install this app from Google play : Click here