Hi Now days People are mostly sharing of GIF file on whatsapp. Although people don't know how to make GIF file, they just forward them as they got. In this article, we will tell you how you can easily make GIF image on Whatsapp easily.
There are billion of users of WhatsApp around the world. But most of the person does not update his apps with latest version. Due to that reason they don't get benefit to use latest features of apps in his phone. Latest version of apps offer different features which is useful for your phone. After updating your old apps with latest version lot of issues also resolved.
WhatsApp is very popular between his user and to maintain his popularity continue to launch latest version with new features. WhatsApp has recently launched his latest WhatsApp version which provide a lot of interesting features. All those users who already update his phone with latest WhatsApp version create, share or send GIF files to others within few seconds.
How to make GIF image on Whatsapp
This process is very easy and you can make your own GIF file and send it. To make GIF file follow these steps given below:
Step 1: In this process first you have to open profile of your friend to whom you want to send GIF.
Step 2: Then go to attachment icon in write corner. Click on that, here a new window will opened, click on Gallery option there.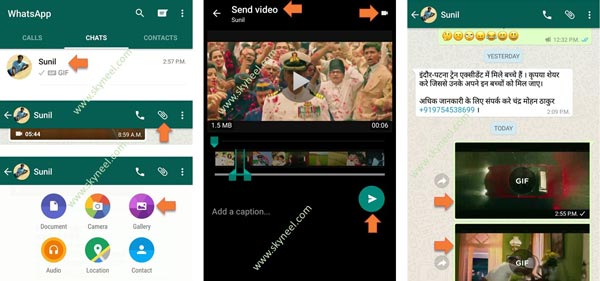 Step 3: From gallery select the video which you want to be changed in GIF.
Must Read: WhatsApp latest camera feature for Android phone
Step 4: This video will be opened on your whatsapp.
Step 5: Now cut your video to 6 seconds or less of it. As you done with it, you will see an icon of video in right corner.
Step 6: Tap on this video icon, here you will see GIF. Now click on send button.
Step 7: Now your GIF file is ready. It will be send as normal photo or video, as you share on whatsapp.
Step 8: It will be received in few seconds by your friend whom you are sending this GIF.
Must Read: WhatsApp latest camera feature for Android phone
So, through these easy steps you can make GIF of any video from your gallery and send it to your friend. It will enhance your enjoyment of using whatsapp.
I hope this guide is useful for all those WhatsApp users who want to make GIF image on Whatsapp. WhatsApp launched his latest make GIF image on Whatsapp feature for his users. Now after reading this guide you can understand how to make GIF image on Whatsapp. If you have any query regarding this guide then please write us in the comment box. Thanks to all.