Mobile wallet is very popular in these days. But still many people don't know what is mobile wallet and how this facility can make your daily routine work easier. Today in this article we will discuss about Mobile Wallet advantages and disadvantages.
What is mobile wallet?
This is virtual wallet in your smartphone. In this wallet money is stored in digital way, it can be said digital wallet. Through its help, you can do any kind of money transaction. Shopping, movie ticket, bus-train-plane ticket etc. All kind of money transaction you can do with it.
Types of mobile wallets
In present time in India four types of mobile wallets are popular. These are open, semi-open, semi-closed and closed.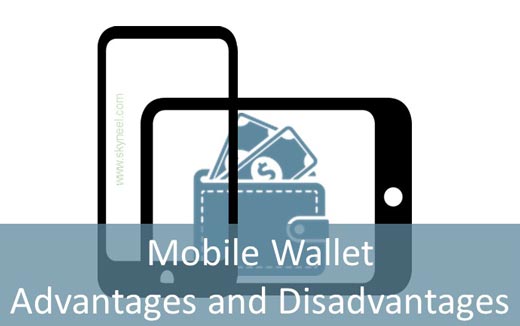 Open mobile wallet: This wallet gives you facilities of payment for any product or service. In this wallet, you can do banking, money transfer also. For example: Vodafone Mpaisa.
Must Read: Top 3 cashless transaction option in India
Semi open mobile wallet: In this mobile wallet you can do money transaction with those businessmen or shopkeeper only who has contract with particular wallet service provider. Through this wallet, you can't withdrawal money or get your money back. In this wallet, you can spend money only that much you loaded in that. Airtel money is one of the example of it.
Closed mobile wallet: This is very popular wallet service. In this wallet if order is cancelled, then your money will be locked to businessmen or shopkeeper. You can't get your money back, you have to buy some other thing instead of your cancelled order.
Semi closed mobile wallet: Through this wallet you can do online shopping and you can get any service. But you can't withdrawal cash money with it. Like Paytm.
Must Read: Nearest Cash or NoCash or CMS ATM Finder
Mobile Wallet Advantages and Disadvantages
Advantages of mobile wallet:
1.Through mobile wallet you can be safe from stealing because your manual wallet can be stolen or lost. But mobile wallet is a virtual concept so nobody can steal it or you can't lose it.
2.You have to change problem when you pay with manual wallet like if you have to pay 1025.50 rs you need changes for that. But in virtual mobile wallet there will be no problem like this.
Disadvantages of mobile wallet:
First of all, it is useful for only who are techno friendly or they have smartphones with good internet access. With mobile wallet service provider, very few businessmen or shopkeeper are linked. In mobile wallet, there is a limit of a day for depositing money or spending.