Many handsets have been launched in the mid-range segment in the Indian smartphone market. One of these is the Moto G8 Plus. Launched at Rs 13,999, this phone is giving a tough competition to Realme 5 Pro and Samsung Galaxy M30 in the market. But is this smartphone fit for you? You will get information about it from our review. Here we have told you about every aspect of the phone in detail. This will help you understand whether this phone will prove to be the best purchase for you. Today we are going to tell you about the Moto G8 Plus review in this article. If you liked this article, then you must comment about it.
Must read: Nokia 7.2 Review: Stylish Smartphone with Triple Rear Camera
Display and Design
Talking about the phone's display, it has a 6.3-inch LTPS IPS Full HD Plus display. Its pixel resolution is 1080×2280. The video can be viewed well on its screen panel. The combination of colors in it is given very well. When you use the phone in sunlight or high light, you will not have to face the trouble of adjusting the brightness. Waterdrop notch on the front panel is capable of improving the video viewing experience. This phone also has a Moto Display. It comes with Ambient Display Mode. Through this, even if your screen is locked, you will get notifications.
Talking about its design, the phone has thin bezels. Waterdrop notch has a selfie camera. The look of the phone can be said to be fine. The phone is made from polycarbonate body. The phone appears slippery at times, in such a situation, we would advise you to use it only by covering the phone. Anyway, if you use the cover, then the phone will also be safe. There is a SIM-tray on the left side of the phone. At the same time, Type-C port is given at the bottom. There is a headphone jack at the top of the phone.
Hardware and software
The Moto G8 Plus works on the Qualcomm Snapdragon 665 processor. Also, it has been introduced in only one variant which is equipped with 4 GB RAM and 64 GB storage. Talking about multitasking in the phone, the phone can be called better in this segment. There is no phone hang in moving from one app to another. Talking about the use of the day, the phone can be called a right choice. The Moto G8 Plus did not have the problem of overheating. If you play heavy games on the phone for a long time or continuously, you may have the problem of overheating. But at the time when we used the phone, we did not see any such problem.
Must read: Realme XT Review: This phone with 64MP camera is better for photography
Talking about the sound quality, the phone has Dolby Stereo, so the phone has seen better sound quality. If we talk about the variants of the Moto G8 Plus, then 4 GB RAM and 64 GB storage can be called a perfect choice for any average or average user. But if your usage is very high, you may find this version less.
Now come to the software. Talking about this segment, this phone comes with Android 9 Pie. It is very close to stock Android. The Moto G8 Plus does not have bloatware. In such a situation, you will not get any spam notifications. Those who do not know tell them that there are bloatware apps or services that are unnecessarily installed in your phone. Which you don't need and it also replaces your phone. Such apps are quite rare in this phone. Due to this, you will get a different experience of Android in the phone.
Camera and Battery
Talking about the camera of this phone, it will have a triple rear camera. Its primary sensor will be 48 megapixels. Its aperture is f / 1.8. The second will be a 5-megapixel depth sensor and the third will be a 16-megapixel wide-angle lens (action camera). This phone works on quad pixel technology. Talking about camera features, modes like portrait, panorama and night vision have been given in it. If you talk about daylight then good pictures can be taken from the phone. You can take better landscapes and close the shots in more light. If you want, you can adjust the exposure accordingly.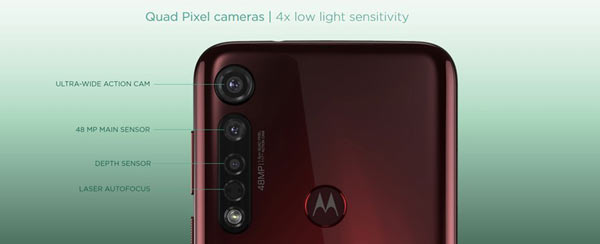 The phone has a 48 megapixel camera, but the photos saved are of 12 megapixel resolution. If you take close up shots, the clarity of the photo is quite good. Talking about photography at night, the phone has night vision. This makes the photos good, but does not get much detailing. The level of photographs remained fine even in low light. The depth sensor given in the phone is capable of giving a better look to the photo. It blurs the background.
Must read: Infinix S5 review: affordable Android smartphone for everyone
If you talk about videography, video can be taken at 1080p 30fps in the phone. It was a bit disappointing. Because nowadays there are many phones that work at 60fps. The video did not come out very clear but the stabilization was much better. Now let's talk about selfie camera. The phone has a 25-megapixel sensor. Photos are better in light or daylight. You can also enable the beauty mode given in the phone. Photo detailing in low light is not very good.
This phone has a 4000 mAh battery. It comes with 15W turbo charging. We liked this segment very much. On average, the phone's battery lasts for about 1.5 to 2 days. If you use the Internet continuously in a phone or watch videos, then the phone battery can last for 16 to 17 hours. It took 2 to 2.5 hours for the phone to be fully charged from zero. Overall, the phone can be called better in this segment.
Verdict
If you look at all the segments overall, then the phone is a good option according to the price. At this price you are given strong battery and Dolby audio. This phone also did well in terms of performance and design. However, at the same price, other smartphones in the market can be purchased with strong processor. We can call this phone not an impact option but an average or above average option.
Must read: How to get lost Smartphone IMEI Number by Google
In this article, we have told you about Moto G8 Plus review If you liked this article, you can also like our Facebook page and subscribe to our YouTube channel. If you have any problem related to this article, then you can tell us by commenting.