Smartphone manufacturer Motorola launched its mid-range powerful smartphone Motorola One Vision in India on June 20. The most striking thing about this smartphone is that it works on Android One or stock Android pie 9 just like other Motorola smartphones. The first cell of this smartphone will be held on e-commerce website Flipkart on 27th June. Motorola One Vision has been launched in India for Rs. 19,999 After using this smartphone over the past few days, this smartphone has made the first impression review. Today our experts are going to tell you Motorola One Vision Review in this article. You should definitely tell by commenting about how you liked this article.
Display
Motorola One Vision is a long smartphone compared to most smartphone launches this year. In most smartphones, we get a 19: 9 aspect ratio display, while this smartphone comes with 21: 9 aspect ratios. Which makes this smartphone a little longer than the other smartphones in this segment. In addition to the aspect ratio and length of its display, the phone has many more special features that you will love. There are many features that are not seen in other stock Android or Android One devices. Its fallback design helps to hold the phone. This 6.3-inch Cinema Vision FHD + display is also available, which users can use with one hand.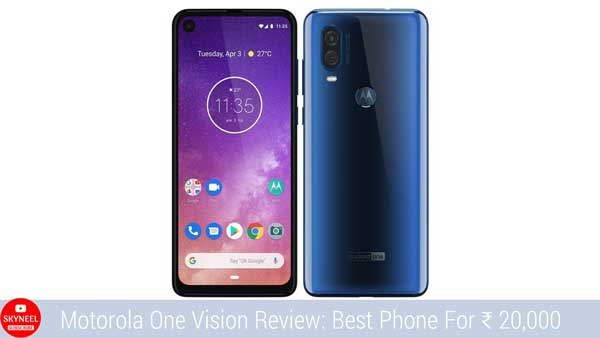 Must Read: How To Protect Your Android And IOS Device With WhatsApp Hack
A punch-hole camera has been placed on the upper left side of the phone, which is correctly placed. It is placed on the left so that users can use a single handle. If you rotate it clockwise, its view remains even better after going down to the left.
Camera
Motorola One Vision has a 48-megapixel primary rear camera with Artificial Intelligence Integration. In this, Samsung's camera sensor has been used with dual pixel technology. We have seen many Samsung's flagship smartphones with dual pixel technology cameras. All these flagship smartphones have a lot of cameras. Similarly, the camera of Motorola One Vision is also excellent. OIS and automatic AI have been recognized for stability with its primary camera, which works as a better light and image optimization.
Talk about selfie camera, it has a 25 megapixel selfie camera that comes with Face Unlock feature. You can also click on prototype photo from its selfie camera. Beauty mode also equipped with Artificial Intelligence in your selfie camera. Even after having an Android One device, move the device to turn on Moto Experience such as three finger screen shots, flash light.
Processor & Storage
IP52 ratings are given for water and dust proofing in the phone. Speaking of the phone's fire power, it has been given the Exynos 9609 processor. This processor comes with 2.2 GHz octaar CPU. The phone has 4GB of RAM and 128GB storage, which can be increased to 512GB via microSD card.
Must Read: Save WhatsApp Messages On Smartphones Without Screenshots
Battery
Motorola One Vision weighs 180 grams and has a 3,500 mAh battery with 15W turbo charging support.
Decision
In the range of Rs. 19,999, Motorola Van Vision is a device that can challenge other smartphones. There are many features that are not visible in any other device. Also, some features are not available in this. If you are looking for a better smartphone in terms of look wise and build quality, then this smartphone can be a better option for you. In this, you get a free experience of Hashil. Stay connected with us, we will come up with a full review of this smartphone.
In this article, we have told you about Motorola One Vision Review. If you liked this article, you can also like our Facebook page and also subscribe to our YouTube channel. If you have any problems related to this article, you can tell us by commenting.