More than a billion users use WhatsApp on daily basis, but some hackers have recently targeted WhatsApp. So far, WhatsApp has not confirmed that how many users have been affected by WhatsApp hack. Facebook official platforms WhatsApp has advised his users to update the app immediately to protect their data and devices.
WhatsApp Hack
Most of us want to use our smartphone in a weird fashion. If there is no lock on it then it's great, just open the smartphone easily. But it is dangerous to do so. Many thieves and hackers are looking for such devices, so that they can steal the important economic and personal information of the common man from social networking websites. In that situation you must have to know how to protect your android and iOS device with WhatsApp hack.
Must Read: Smartphone can harm your neck and eyes disease, be careful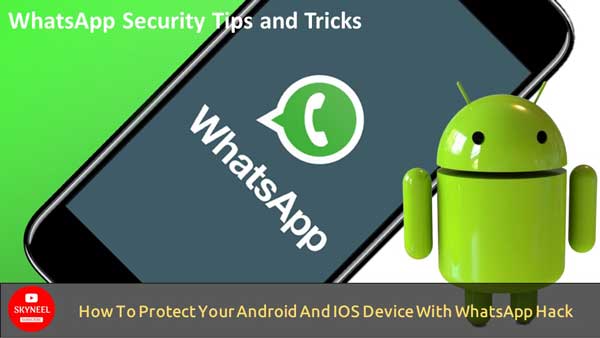 Just like minor cleaning yourself, you can avoid many diseases, same way in the digital era, you can easily avoid any major threat to your smartphone. For this you have to put some precautions in your smartphone.
Must Read: WhatsApp Call Recording – How to Record a WhatsApp Video Call
How To Protect Your Android And IOS Device With WhatsApp Hack
Recently, according to a report in the Financial Times, a bug was found in WhatsApp. Hackers are used to spread spyware. This code has been developed by the Israeli Cyber ​​Intelligence Company NSO Group. It is being spread from one device to another via WhatsApp. This means that if your app is not updated then only from one call come with spyware on your device. Once Spyware comes, they can steal your important financial and personal information.
Call data gets removed
In this attack of WhatsApp, the details of call data or call logs are automatically deleted from your phone. You can not find out if you have received that call or not.
Must Read: How to send images without spoiling quality on WhatsApp
How to keep safe your iOS
If you have an iOS smartphone, then open the App Store from your iOS device and click the Updates tab at the bottom right side.
If your WhatsApp is working on the Old Version then you will see the update button. Tap on update button and install latest version.
If your app is already up-to-date, you will see an Open tab. You should make sure that your WhatsApp is working on latest version 2.19.51 or not.
Android users make their WhatsApp safe like this
Open the Google Play Store on your mobile device and tap on the three lines icon at top-left corner.
Must Read: How to record WhatsApp Call – Easy Tricks
Then tap on My Apps & Games section. If you see an update option with WhatsApp, then tap on it.
If you already have an updated app then, you can only see the Open tab.
On Android phone, make sure that your WhatsApp 2.19.134 is working on the latest version.
So in this way you can avoid WhatsApp Hack that runs on your Android and iOS devices.