Sometimes, few words and profile pictures not able to define your personality, in that situation music comes to the rescue. Now you can Add Favorite Music to Your Facebook profile.
Must Read: WhatsApp Calling: Guide How to reduce mobile data consumption
The songs that express who we are can easily be featured on anyone's Facebook profile. Fortunately, you don't have to worry about sudden blasts of music. If you want to express yourself then you can easily add favorite music to your Facebook profile . You can also add any store at your Facebook profile. Your friend's music only exists on mobile and will never auto-play. Here's how to add your favorite to your profile.
How to Add Favorite Music to Your Facebook Profile
The music or the songs won't auto play when someone visits your profile. They will have to play the song manually in the music section of your profile. While you can add multiple songs to your profile, you can also pin a song that will be visible at the start of your profile.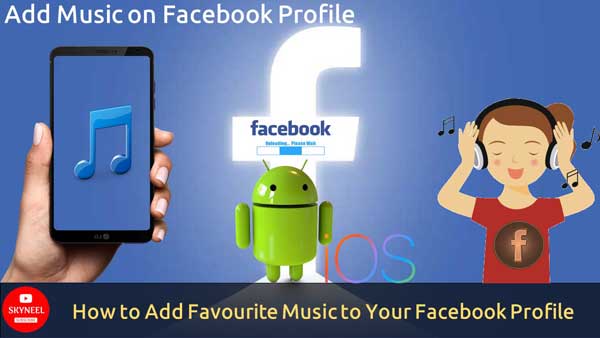 Must Read: Facebook Quiet Mode block notifications for Android iOS
Let's check the music feature on Facebook.
The music feature is currently limited to the mobile apps of Facebook. That is, you can use it only on Android and iOS devices. It won't be visible on the desktop version of Facebook. To add favorite music to your Facebook profile you have to take following steps.
Step 1: To add music to your Facebook profile, start by installing the Facebook app on your iPhone, iPad, or Android device. Log in to your Facebook account and tap the Profile icon to view your profile. From there, scroll down and tap "Music."
Step 2: On the "Music" screen, tap the plus sign (+) to add songs to your profile. Now, you get a screen which display a search bar, as well as a list of the current most popular song choices. Tap the search bar to find your favorite song(s) by artist, album, or song title. Tap "Add" to add a song to your profile.
Must Read: How to set parental lock on Google Play Store
Step 3: Once music is added to your profile, it's automatically set to public. You will see that the music section isn't blank now. Tap on it to view your playlist. To add more songs, again tap on the add icon and hit the Add button next to the songs you want to include in your list. Anyone who can view your profile will also be able to see the songs you've added to your profile by tapping "Music" on your profile.
As of this writing, there doesn't appear to be a way to delete songs from your music list once they've been added.