These days, Oppo Fantastic Days is running on Amazon, in which you get offers up to Rs 7000. These offers are available at Discount India on Oppo's popular smartphones at Amazon India. The Oppo Fantastic Days sale is running on Amazon these days. This sale will running for 4 days from May 15 to 18 May.
Must Read: ICC Cricket World Cup 2019 Watch Free Live Streaming & TV Channels at Hotstars
In this sale, Oppo's smartphones are available at a starting price of Rs 7,990. With this, the consumer can also take advantage of no-cost EMI on smartphones for 9 months. During the sale, there will be an additional discount of up to Rs 7000 on the exchange. Oppo is launching its flagship smartphone Reno with a 10x zoom on May 28. Let's know about this at Oppo's Fantastic Days sale at Oppo's top deals.
Oppo Fantastic Days Sale
The Chinese smartphone company Oppo Online Shopping Website has brought the Oppo Fantastic Days Sale on Amazon India. In this sale, buyers are getting great offers on buying Oppo smartphones.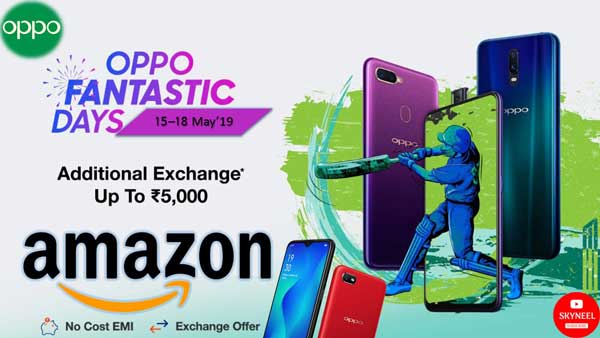 Oppo Fantastic Days sale will run on the Amazon India website from May 15 to May 18, in which buyers can purchase Oppo's smartphones at an initial price of Rs 7,990. Oppo Fantastic Days users will also get a no-cost EMI benefit of upto 9 months. At the same time, even after exchanging old phones, the buyers are being given a very impressive discount by Oppo, in which users will receive an additional discount of upto Rs 7,000. At the same time, on payment of ICICI bank's credit or debit card, the BOIs will also get an installation discount of Rs 1500.
Must Read: Oppo A5s Review: a bigger battery and budget Smartphone
Oppo F11 Pro available at the starting price of Rs 22,990
Oppo F11 Pro Pop-in India is one of the cheapest mobile phones coming with Selfie Camera. The smartphone was brought in a retail price of 24,990 rupees, but during this sale the phone is getting off of Rs 2000. Excess exchange benefits of Rs 3000 are also available on this. This reduces the cost of the phone to Rs 19,990.
Oppo F11 Available at Rs 17,990
The company has started pre-ordering Oppo F11 on Amazon. The device is available with pre-booking offer and will be available for sale on May 18 at 12PM. Those who buy Oppo F11 as a pre-booking offer are getting extra discount of Rs 3000 for one-time screen replacement, extra-off on the exchange of Rs 2000, no-cost EMI for up to 9 months, and Oppo phone upgrade.
Must Read: OPPO F11 Pro | OPPO India | Oppo F11 Pro India launch on March 5
An additional Rs. 6,000 exchange offer on Oppo R17 and R17 Pro
In the Fantastic Days Sale, the exchange offer is available for an additional Rs 6000 exchange offer under Oppo R17 and R17 Pro. The price of Oppo R17 Pro is Rs 39,990. The price during the sale of Oppo R17 is 28,990.
Exchange offers on Oppo A5s, A3s and R15 Pro
In addition, during the sale, Oppo A5s is getting at the starting price of Rs 9,990. At the same time, the A3s are getting at the starting price of Rs 7,990. Both devices are available with additional exchange benefit of Rs 1000. The cost of Oppo R15 Pro is Rs 25,990 and it is getting an additional exchange benefit of Rs 7,000.
Oppo F9 Pro available at Rs 17,990 and exchange offer of Rs 1500
Oppo F9 Pro smartphone of Oppo Fantastic Days, running on Amazon India, is sold at a price of Rs 17,990. This smartphone is getting an additional exchange bonus of 1500 rupees.
Must Read: Main reason Why should buy Oppo F9 Pro Smartphone?
Oppo A1K Available at Rs 8,490
Oppo's Affordable Smartphone Oppo A1K smartphone is sold at an initial price of Rs 8,490.