Camera is one of the deciding factors to buy a new smartphone. People keep the camera in mind to buy a smartphone. Many people buy phones only for photography. As the technology is increasing, smartphones have become more advanced. Nowadays, most smartphone cameras can take photos very well, but many times, the camera app's settings do not get the desired photo even if there is a good camera on the shocking. Here we will tell you the settings of the camera app of the smartphone which you can adjust and take good pictures. Before moving forward, learn the types of images that we use in our life of the day. Today, our specialists are going to tell you Take Good Photos With Your Phone in this article. Tell us what you think of this article by commenting on us.
Portrait image
Taking photos in portrait mode is the most common. Most people take photos in this mode. To capture a moment with your family or friends, people first take the phone and click the photo directly in portrait mode. Many times this happens when you feel that you are not looking good in the photo or your photo may be better than this. You should take care of some things while photographing in portrait mode .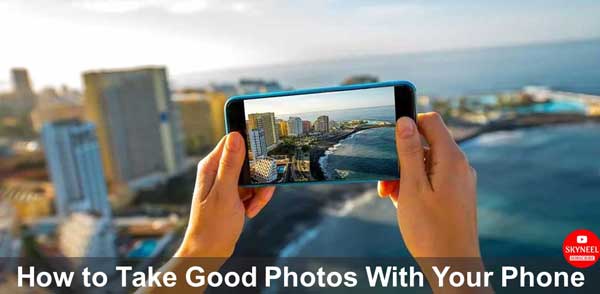 Must Read: Smartphone can harm your neck and eyes disease, be careful
Lite source:
Lite is a very important contribution when taking portrait photos. Always keep your subject in front of the light (which you are taking pictures in the center), that is, keep the subject in the place where the light is coming directly to his face. To get some different effects, you can also put your subject next to the light source.
Leave a little space around the head and face:
When taking photos you should leave some space around the head and around the face. This will allow you to see the photo behind your photo. With this, the backgraud of the photo will also be easily available with the photo.
Tap to Focus:
The Camera app has an autofocus feature, but it is not necessary that he focuses on your subject properly. For a nice and sharp photo it is necessary that when you take a photo and focus on the face of the subject.
Avoid using Flash:
The flash feature used in the phone's camera app should be used only if the light is less than needed. Do not use Flash in normal light.
Action photos
Many times a picture has to be taken, which gets shaken without moving to a place. These are called Action Photos. While taking photos of action, many times the pictures are often blurred and out of focus. In such a way, you can take good action photos by taking care of these things.
Grit:
You need to be patient while taking pictures of moving objects. We should keep in mind the speed of the object. Also take photos to wait for the right balance on objects and stars.
Use brush mode:
Almost all smartphones have a brush mode in the camera. Therefore, it is advisable to take several photographs at a time and then select the favorite photo from it and remove the others.
Choose pro mode:
Camera Pro Mode helps users to fix shutter speed. Faster shutter speed reduces the blurring of photos. In the camera app of smartphone that does not have pro mode, you can download any such camera app from the Play Store, in which you get such a mode.
Must Read: Smartphone can harm your neck and eyes disease, be careful
Landscape Photos
Whenever we see a beautiful sight, then we think of drawing a picture of it as a reminder. Landscape fattygraphy is said to take a photo by strapping the phone directly. While taking such photographs, the biggest thing is to bring all necessary elements such as lines, curves, shapes and patterns into a single photo. In such a situation, you can take a good landscape photo by taking care of these things.
The light should be:
The fat depends entirely on the light. If you know how to play with light in fatgraphy, it becomes easier for you to use fatgraphs. Take time to take a landscape photo, the best time is considered just before sunrise or after sunset.
Straight Horizon:
If the horizon of the photo is not straightforward, it will not look beautiful. To keep the frame upright, we use built-in grid line options.
Exposure Exposure:
In Auto mode, you also have the option to plug in image exposure. To diversify the photo, paste the brightness according to the time.
Take care of the back around:
Look at an interesting pattern, water, shadow or any other scene and think about how we can use them in my picture.
Do not use Flash:
Always use natural light to give the actual look of the photo. Do not use at least Flash Lite as long as possible.
In this article, we have told you about Take Good Photos With Your Phone. If you liked this article, you can also like our Facebook page and also subscribe to our YouTube channel. If you have any problems related to this article, you can tell us by commenting.