Did you know that personal loans are one of the most expensive loans? Usually interest rate on personal loan ranges between 12% and 20% per annum. If you are in need of extra cash for a large purchase, need to take a personal loan. Most personal loans are unsecured, meaning there isn't collateral if you fail to pay back your loan in accordance with its terms.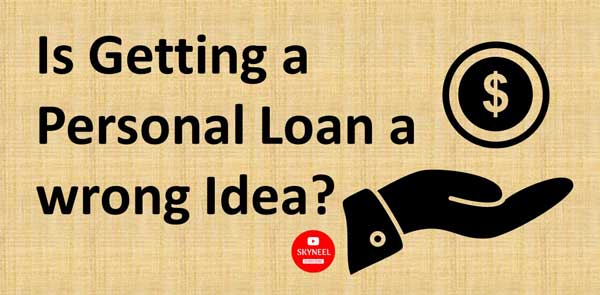 Must Read: Today Gold Rate in India
We suggest that you look for various options from loan against gold or any property and avoid personal loans.
Personal Loan: Reasons Why Personal Loans Are Bad?
These type of loans help the households meet any shortfall they experience in buying a house or a car, in children's higher education, or even in cases of medical contingencies, among other things.
In fact, we see almost no advantage in taking a personal loan. Here are 5 good reasons not to take a personal loan. When you have emergency needs such as medical cost and don't have any other options, it is acceptable to opt for a personal loan. Here's a low down on personal loans to understand them better.
Must Read: How to check validity and balance of Jio number
Why you should not take personal loan?
Interest rates are high
The interest rates on personal loans are next only to interest rates on out-standings on your credit cards. The interest rates can be as high as 24 per cent. When you compare it with other loans like gold loans, auto loans, loans against property or loans against shares, we realise that it is exorbitant. This is one of the biggest disadvantages of this type loan and make it a bad proposition.
Must Read: How to Know Your Phone Number Blocked by Someone else?
Pre-payment charges
If you take a this type of loan, there are prepayment charges. But, if you go for other loans, there are no pre-payment charges. For example, in the case of gold loans there are no pre-payment charges whatsoever.
No loan if your credit score is not good
In case you have a very poor credit score, chances are bright that your loan could be rejected. Banks may most certainly decline a loan of all those person's who already has too much credit score. However, like any other loan, defaulting on a personal loan is not good as it would reflect in your credit report and cause problems when you apply for credit cards or other loans in future.
Finance a car
If you don't have enough cash then you have an option to buy car via finance. Sometime most of person don't check interest rate due to which facing lot of issues after finance any vehicle.
Must Read: How to check current PNR status offline or online
Processing fees
During applying for loan you can check that the processing fees is far higher as compared to gold loans. This is another reason for taking loans.
Valid Income Proof
Without an income proof there is no way you would get a loan for personal use. However, this is not true in the case of gold loans, loan against shares and loan against property, where the collateral enables you not to show any income proof.
Conclusion
If you are ready to pledge shares, gold or property, then this loan are far better for you. However, must have to remember that you need to pay-back the loan, as you have pledged things with the bank.
Must Read: Facebook Trace locations where you're Logged In
This type of loan disbursal takes lot of time and it is not the fastest loan around. If you need faster loan requirement then you must have to move on other loans in place of personal requirement loans.
Before taking loan for personal use be carefully and read all important things like interest rates, processing charges, pre-payment charges etc. Also, in case you somehow desire to take the same, it would be advisable to compare interest rates and other charges before you avail the same.