After the arrival of 4G mobile network in India, a new round of Indian mobile network has started. Currently, all mobile network companies are making every possible effort to entice consumers. The user can change the mobile network company from its current network at their convenience.
What is mobile number portability
Under Mobile Number Portability (MNP), you can change your mobile service provider without changing your mobile number.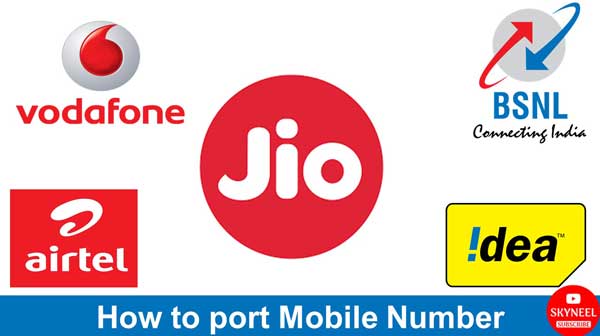 Must Read: Smartphone can harm your neck and eyes disease, be careful
How to port Mobile Number
1. Go to the Mobile Message Box, type PORT. Please enter your mobile number by giving space and SMS at number 1900. Example: PORT 9214456789
2. In the received SMS, you will get the number 8 code and its expiry date. This code is called Unique Porting Code (UPC).
3. Go to the retail outlet near the new service provider with an application form referring to Inside, Inside Proof, Identity Proof, Photo, UPC and your mobile number. There you will have to fill out a form and buy a new SIM.
4. The operator will send your documents and forms to the mobile clearing house. After this you will get the SMS from the new service provider on your current connection, in which it will be given a date and time, during which your mobile phone no service period (will not work). During this time your service provider will be replaced. The entire process will take two hours. During this time you will not be able to use your phone. This time will be between 12 am and 5 pm. In the morning, remove the old SIM from your mobile set and enter the new one. The number will remain the same, the operator will change.
How many days will mobile number port
The process will be completed in at least four days and up to a maximum of seven days.
How many rupees
For this you only have to give 19 rupees to your new service provider. Currently, the service providers are also promoting this facility for free.
Who can use
Even if you are using GSM to GSM, CDMA to GSM or any other connection, you can still take advantage of this service. You can use both postpaid or prepaid numbers.
If dissatisfied even with new ones
If you are not happy with the new service provider and also want to change it, then you have to stay with it for at least three months. It can change its service provider again after 90 days.
Must Read: Smartphone can harm your neck and eyes disease, be careful
What is the advantage
With the change of operator you can also change your plan. That is, if you are a postpaid customer then you can also get a prepaid plan in the new operator.
Take care of these things
1. Prepaid Mobile Customer Before you change your service provider, make your existing balance almost zero as the old balance transfer will not occur after going to the new operator.
2. Postpaid customers can not change their operators till the pending bill has been paid.
3. Once you have ported the number, you can not use portability again for the next 90 days.
4. Only the operator can change where the number is. If the number is of Delhi then operators can change in Delhi and not in any other state.
In this article, we have told you about How to port Mobile Number. If you liked this article, you can also like our Facebook page and also subscribe to our YouTube channel. If you have any problems related to this article, you can tell us by commenting.