Realme 3 Pro and Samsung Galaxy M30 have challenged Redmi Note 7 Pro in the budget range of Rs 15,000 this year. Realme 3 Pro and Samsung Galaxy M30 both come with smartphones, Waterdrop Nowch, Full HD display panel, better camera feature. Which of these smartphones will be better for you, we are going to tell today. Both the smartphones are tremendous due to some of their features. Today our expert is going to tell you a Realme 3 Pro vs Galaxy M30 in this article. Tell us what you think of this article by commenting on us.
Realme 3 Pro vs Galaxy M30: Display and Design
Both smartphones come with large bezel Lace Waterdrop, the Nokia Display. Plus there is a plastic panel in the back of both the smartphones. However, Realme 3 Pro glossy gives more premium look due to 3D rear panels. The Galaxy M30's rear panel does not appeal much to you, but its front panel is quite attractive.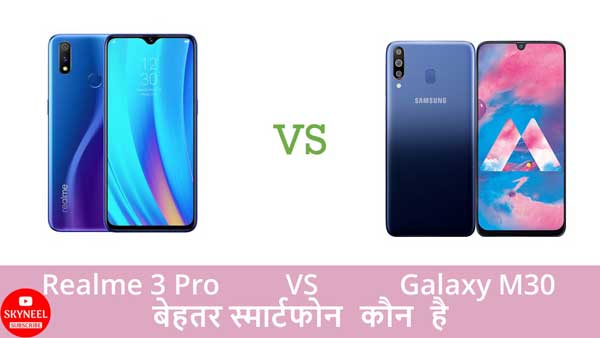 The Galaxy M30 has a 6.4-inch Full HD Plus Infiniti-V AMOLED display, which is 2340×1080 resolution. There are plenty of bright, rich and wild color reflectors in the display. Realme 3 Pro has a 6.3-inch Full HD Plus display. In terms of display, the Galaxy M30 is much better than Realme 3 Pro.
Must Read: RealMe 3 vs Redmi Note 7 – Which Is Better
Realme 3 Pro vs Galaxy M30: Performance
If talking about performance, Realme 3 Pro is heavily on the Galaxy M30 due to its 2.2Ghz Snapdragon 710 chipset processor. Snapdragon 710 Chipset Processor is an Artificial Intelligence equipped processor that can multi-tasking with the app used for your day-to-day life. Apart from this, there is Adreno 616 graphics processing unit which is better for gaming.
The Galaxy M30 has 1.8GHz octa-core Exynos 7904 processor. On this processor you can use the applications you use on a daily basis, but you may have difficulty playing high resolution games and the phone starts to warm up. Also, Realme 3 Pro runs on ColorOS based on the latest 9 pie, while the Galaxy M30 runs on Android 8.0 Oreo. However, a one-day rollout for this will soon be based on Android 9 Pie.
Realme 3 Pro vs Galaxy M30: Camera
After design, display and camera, most people pay attention to the camera. In this era of social media, the camera has enhanced the trend of smartphones for better photography. Compare the camera of these two smartphones, even in this case, the reality 3 Pro is huge. Realme 3 Pro has a 5 megapixel dual rear camera setup with a 16 megapixel Sony IMX519 primary sensor and a depth sensor.
The Galaxy M30 has a 13 + 5 + 5 megapixel triple rear camera. You get more detail in the picture taken from the Realme 3 Pro camera, which is not available in the Galaxy M30's camera. Realme 3 Pro has a 25 megapixel selfie camera while the Galaxy M30 has a 16 megapixel selfie camera.
Must Read: Realme C2 review: Attractive design and best battery life
Realme 3 Pro vs Galaxy M30: Who To Buy
Now the question is, which of these two smartphones would be better to buy, we decided to drop it on you. In Galaxy M30, you get AMOLED display with a powerful battery of 5,000 MAH with USB Type-C charging support. At the same time, you get a better processor and camera in Realme 3 Pro. In this you get VOOC 3.0 Fast charging support. The initial variant of the Galaxy M30 is priced at Rs 14,999 while the base variant of Realm3 Pro is priced at Rs 13,999.
In this article, we have told you about Realme 3 Pro vs Galaxy M30. If you liked this article, you can also like our Facebook page and also subscribe to our YouTube channel. If you have any problems related to this article, you can tell us by commenting.