These days, youth have wireless phones with Bluetooth Neckband. While traveling in the park, people can watch with Bluetooth Neckband earphones while traveling from the youth to the Metro. Many electronic devices and accessories manufacturers sell such neckband and Bluetooth speaker for the youth in India. Today we have brought you a review of the wireless Bluetooth Earphone of the Sound One company. In this we will tell about its sound quality, battery backup, comfort level etc. After the use of Bluetooth earphones for several days, this review has come to you. Today our expert is going to tell you a Sound One X80 Wireless Earphone Review in this article. Tell us what you think of this article by commenting on us.
Design
Like common wireless Neckband Bluetooth, its look and design has been traditionally given. There is a round neckband on which both earpieces have been fitted. Charging jacks and batteries are provided on the right side of its neckband. Whereas, all the functional buttons are given to you on the left hand side. With this functional button you also have a memory card slot on the left, in which you can insert a MicroSD card. In the case of the design it seemed to me completely. Generally, the Neckband of Bluetooth earphones come in the same way, they have similarities.
Must Read: Why is Realme 3 Pro better than the Samsung Galaxy M30?
comfortability
The Bluetooth Neckband weighs 109 grams, which is not so much. However, you will surely feel that you have put a belt in your neck. The most important thing about this Bluetooth Neckband is that it is sweat proof. It has got an IPX5 rating, which does not allow sweat to reach the internal circuit. Due to which its internal components are less likely to worsen.
Connectivity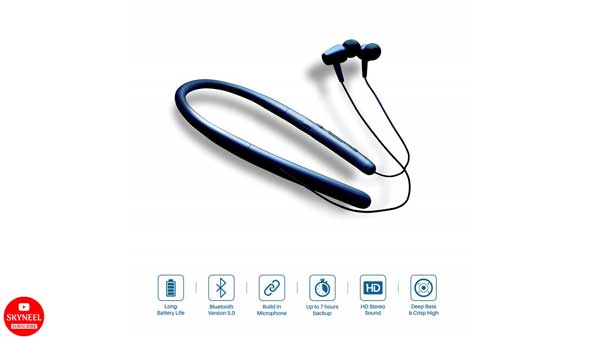 Speaking of connectivity features, it has Bluetooth version 4.2. With the help of which you can connect your PC, smartphone, MB etc. Apart from this, you can also listen to your favorite songs via MicroSD card.
Functional key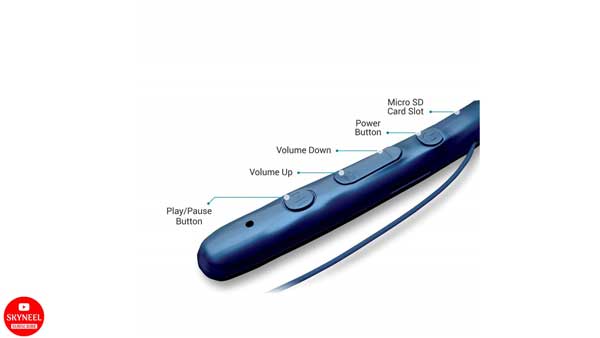 Three buttons are on the left side. There is a power button on which you can turn it on or off. In addition you can use it to connect to the device. The volume is just below the power button, which is used to make the volume up or down. Plus, you can also change the song through it. To change the song, you have to press the volume for long periods of time. At the bottom is a play or pause button that can be used to play or pause any song. You can use Power Button to manage calls With this functional button an LED light has been given which charges the battery and blink after connecting to the device.
battery backup
The battery backbone of this Bluetooth Neckband is 7 to 8 hours. You have to charge it for two hours to charge full charge. You can use micro USB to charge it. It weakens the battery after it weakens the battery. Apart from this, the device tells you through the alarm even when it is connected and disconnected.
Must Read: Smartphone can harm your neck and eyes disease, be careful
Verdict
After reviewing the Bluetooth Neckband Overhaul, it was found that it is OK to see it. In addition, you can also use this Bluetooth Neckband to manage calls. Its sound quality will not disappoint you too. But, what has disappointed me most is connectivity. Its Bluetooth connection is sometimes disconnected automatically. Especially when you move your device, plus, its Bluetooth range also reduces me.
In this article, we have told you about Sound One X80 Wireless Earphone Review. If you liked this article, you can also like our Facebook page and also subscribe to our YouTube channel. If you have any problems related to this article, you can tell us by commenting.