Realme, a sub-brand of Chinese smartphone maker Oppo, entered the Indian market last year. Since then, this company has made a place in the heart of Indian users by launching many of its smartphones in the Indian market. The company has launched about a dozen smartphones since last year. Apart from smartphones, the company has also launched electronic gadgets in the Indian market. Today we are going to tell you about the Realme Buds Wireless Review in this article. If you liked this article, then you must comment about it.
The company recently launched Realme Buds 2 earphones. Now the company has also launched Realme Buds Wireless in India. This neck band wireless earphone has been launched at a price of Rs 1,799. You can also use this wireless earphone during travel, jogging or walking and gyming. After using this earphone for the last 15-20 days, I brought to you a review of this wireless neck band earphone. I have used it during long train journeys and walking and jogging.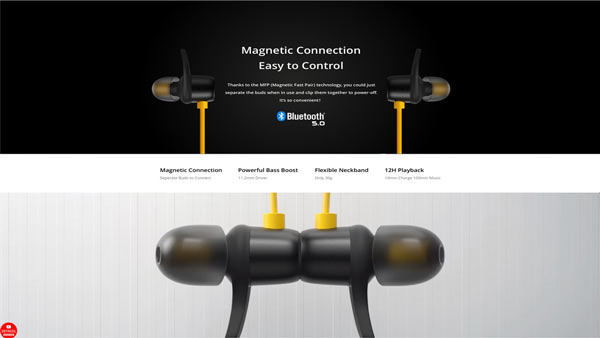 Must read: Realme XT Review: This phone with 64MP camera is better for photography
Design
Let us first talk about the design of this earphone. Earphones are a gadget used in our day to day life, so it is important to know about its design and look. Its design is quite fancy and trendy. Also, its weight is also very low, due to which if you keep it in your neck for a long time, you will not feel like you have put something on your neck. Both of its earpieces fit comfortably in the ear. Depending on the size of your ear piercing, there are different buds in it, which you can use according to you.
Buy realme earbuds from here
Both of its earphones have wires of about 6-6 inches which are not very long. Being not long, you can carry it comfortably. Its right side has volume button and charging jack. There is a battery on its left side that gives it 10 to 12 hours of power. Its ear buds have magnets at the back, which act as its switches. Meaning that as soon as the two buds separate, its switch turns on. When the buds get stuck together, its Bluetooth turns off. This means that if you want to use it, separate both of its ears.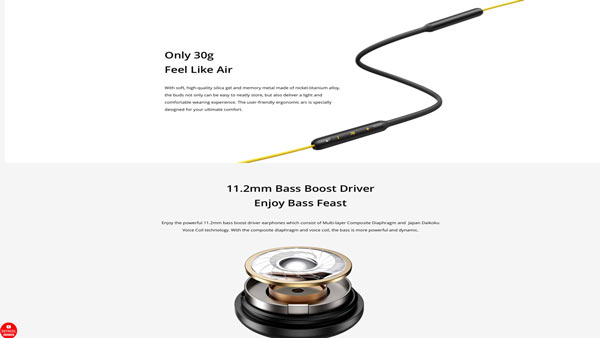 Sound Quality
I liked the sound quality of this wireless earbud. Especially when you are using online music streaming apps like Spotify, Amazon Prime Muzic. You hear every beat of the music clearly. You will not hear the sound distorted even if the volume is full. This complaint is commonly found in many earbuds. The surround sound is also very good, you will get a good feel for the music. The sound of the bass is not so high, you can adjust the bass with the music app's equalizer if you want. It supports wireless earbud Bluetooth 5.0, due to which you get the experience of lag free music. Whether you are watching videos or streaming music, you get to hear music in better sound quality.
Must read: Best selling Bluetooth speaker is available here at a huge discount
battery
Talking about the battery of this wireless earbuds, you can use it continuously for 8-10 hours. As soon as you remove the earbuds from the ear, they automatically cling to each other, which play a very important role in saving its battery. If you do not want to listen to music, you will remove it from the ear, its Bluetooth will turn off automatically. Therefore, no power button has been used. This can be called intelligent attribution. It is also much better in terms of battery.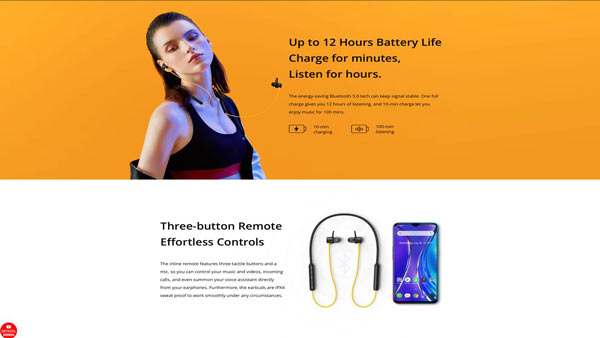 Verdict
After an overall review of this Bluetooth wireless, I would say that at the price of Rs 1,799, you get a better wireless earbud, which has a much better battery back up and sound quality. Apart from this, you will also like the look wise. Not only this, the intelligence feature given in it is also tremendous.
In this article, we have told you about Realme Buds Wireless Review. If you liked this article, you can also like our Facebook page and subscribe to our YouTube channel. If you have any problem related to this article, then you can tell us by commenting.