As per watching downfall in the profit percentage Samsung company ready to release his latest flagship Smartphone Samsung Galaxy S6 and Samsung Galaxy S6 Edge. Company does different kind of changes in these Smartphone but main change is done in the design of these Smartphone, both these Smartphone are costly and also has stylish look.
Samsung Galaxy S6 Edge Design:
As per watching the look and design, Samsung Galaxy S6 Edge is the most attractive and stylish Smartphone than all other previous Smartphone of this company. As per watching downfall in his sales and profit company strongly check each and every week point due to which company sales and profit is decreased and then finally ready to launch his latest Galaxy S6 Edge Smartphone which has full metal design around the phone. It has curved edge design which makes it different from all other Smartphone. It has curved glass display both side which is customized as per the user convenient. Due to the curved edges Samsung Galaxy S6 Edge android Smartphone has 7mm thickness which provides better grip control to hold the phone. You will be comfortable when you hold this Smartphone either in your hand or in your pocket. As per the company, the glass of Galaxy S6 Edge Smartphone is curved at 800 degree Celsius temperature also company provide corning gorilla glass 4 due to avoid any scratch. This flagship Smartphone also give premium look due to its metal frame.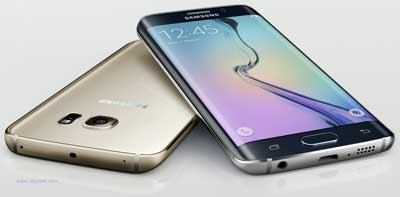 Samsung Galaxy S6 Edge Screen:
Samsung Galaxy S6 Edge has 5.1 inch super amoled touch screen which has 577 pixels per inch density which support 1440*2560 pixel resolution. It has coating of corning gorilla glass 4 from the top side of this Smartphone due to avoid any kind of scratches. There is no doubt that this Smartphone has much beater QHD screen which provides better screen resolution and quality. It is very impressive this Smartphone provide better pixels per inch also have smaller screen size than LG G3.
Must Read: Tip to improve performance of your Smartphone
Samsung Galaxy S6 Edge Performance:
Samsung Galaxy S6 Edge approximately cost around Rs. 60,000 then the same will be expected of her finest performance. Most of the person complains that Samsung Smartphone will be hang lot of time as per finding the solution of this problem this Smartphone has 64 bit architecture, Exynos 7420 Octa-core processor which runs of latest android lollipop 5.0.2 operating system with the combination of 3 GB RAM. This Smartphone has Samsung TouchWiz user interface layer over it. It is the world first Smartphone which processor is made with 14mm fabrication process due to this feature this Smartphone is not generate heat during multitasking and also provide much better battery life.
As per the benchmark test this Smartphone provide better performance than all other Smartphone when you are doing multitasking, playing games, watching videos and much more. But there is a small problem that present time lot of companies provide much better customizable user interface like cyanogen color, oxygen and many more but company gives Tochwiz user interface, which is older than other customizable user interface.
Company remove all other unused apps from this Smartphone only those apps which you need are pre-installed in this Smartphone apart that company also add different interesting and popular features in this Smartphone like fingerprint scanner, heart beat scanner and many more. You will be able to do different kind of transaction with the help of Samsung payment gateway via MasterCard, visa card etc.
Samsung Galaxy S6 Edge Camera:
Samsung Galaxy S6 Edge Smartphone has 16 MP rear camera with full HD, auto focus and optical image stabilization which provide better picture quality and also capture the video and also provide 5 MP front facing camera, with full HD which is used for taking selfies, video calling and video capturing. This Smartphone is read to provide better picture quality, color, contrast and many more in dim light because it has f/1.9 aperture which capture 34% more light.
Must Read: Top Battery saving Apps for Android Smartphones
Battery, Storage and Connectivity:
This Smartphone has 2600 mAh non removable lithium battery. This Smartphone is designed by an special way which provide long battery life. It you talk about the storage capacity this Smartphone will come is different variants 32 GB, 64 GB and 128 GB. It has all latest connectivity options just like 4G LTE, 3G, WiFi, Bluetooth 4.1, NFC, A-GPS, Glonass and many more.
It also has 50mAh larger battery and much lighter than others. Samsung Galaxy S6 Edge Smartphone has 132 grams weight and 5.6*2.8*0.28 inch dimension.