ROM Toolbox is very useful app and it must be install on every rooted phone. Toolbox loaded with all root apps into single app with a user friendly interface, easy and beautiful layout. It has each app which you need for your rooted phone to improve your Android mobile phone performance and customize it.
Install ROM Toolbox pro from Google Play store:
Paid App ROM Toolbox pro click here Free App ROM Toolbox lite click here
Features of ROM Toolbox App:
ROM Management
1. You can install ROMs and themes by Rom Toolbox.
2. You can create, manage and restore nandroid backups.
3. Wipe data, cache, dalvik-cache, battery stats from your phone.
4. You can install multiple Rom and zip files from your SD card by this app.
App Manager
1. You can take backup and restore apps.
2. You can restore apps from nandroid backups.
3. You can also take backup and restore messages, accounts, etc.
4. You can take backup/restore Android Market link by this app.
Task manager
1. It has automated batch uninstaller feature.
2. You can e-mail your apps to friends.
3. You can easily move you app on your SD card.
4. It is clean up dalvik-cache, fix permissions and wipe your data & cache, you can forced to close any app by this app.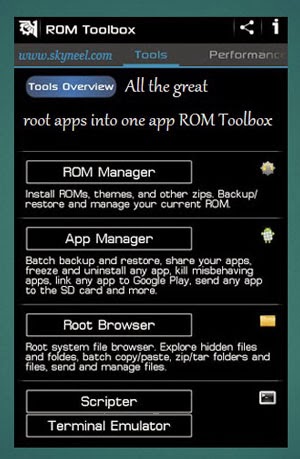 Root Explorer
1. You can access root folder and system files.
2. You can Batch copy or paste, zip, tar, delete, move any file or folder by this app
3. By this app you can change file permissions and ownership
4. You can view, edit and share files from File manager.
Scripter & Terminal Emulator
1. You can create and run script as a root by this tool.
2. You can set your scripts to run at-boot.
Must Read: Safe and secure your device with Android Device Manager App
Auto Start Manager
By this app you can enable/disable apps that runs on startup.
Ad Blocker
It has Ad blocker app. you can block ads, risky site and porn site by this app.
Configure Apps2SD
You can set every app to install to your SD card or internal storage by this app.
Font Installer
1. Install custom fonts from your SD card.2. You can set fonts and send them to friends.
Set CPU
You can set CPU, CPU Profiles and scaling governor.  And you can tweaks Kernel by Rom Toolbox.
Must Read: How to make free call by Facebook messenger on Android and iOS
Build.prop Editor
It help to increase or decrease LCD density, improve battery life and increase performance. It has good buid.prop editor, you can easily edit your build.prop.