Hello friends, At present time most of the mobile manufacturer companies launch budgeted smartphone which comes with different great features and latest technology. Today we have to discuss about the LBE Security app in English, best Security App for Android smartphone. At present time lot of apps available in the market there are few apps and free to use and others are chargeable.
Must Read: How to secure your Android Device with 9 tips
The LBE Security is now released with multiple Languages like English, French & German. Best Security app for Android phone now. This is fabulous security app for all Android phones. This is a small size app, it is occupied only 855 KB space on your phone memory and it is free to use app which is available on the Google play store for Android 2.0 or upper version of Android. So install this app on your phone and secure your Android phone.
Features of LBE Security app:
LBE Security app has clean designed, simple user interface and more user friendly app. It's add new function like face recognition, LBE task manager, call blocking and program lock function. This app support for CDMA network Smartphones and you can use three second delay call ringing by this app. By this app you can easily block spam notification and messages. You can optimize and reduced memory usage and clean SD card in depth by LBE app. Install from: LBE Privacy Guard.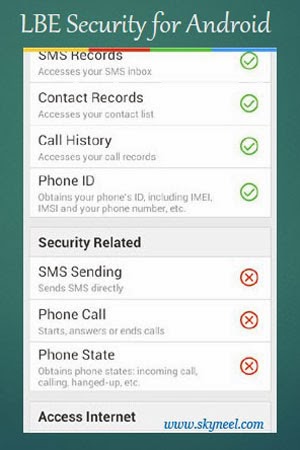 Must Read: How to increase Internet speed in Android Device : 7 tips
I hope you like this LBE Security app from which you will be able to easily secure your phone without any extra efforts. This is a great app for secure your Android devices, thank to app developers. If feel any problem in this guide then please use comment box. Thanks to all.