In the last few years, many cases of account hacking have arisen due to leak password and account security linked to the security of the account. Keeping this in mind, Google has given several options keeping in mind security users in the previous update. Users already have the option of 2-factor authentication to increase the extra security layer on a Google account. Apart from this, the company has added another new feature, with the help of which your Android smartphone will work as a key to the Google Account. Today our experts are going to tell you Secure Your Google Account in this article. You should definitely tell by commenting about how you liked this article.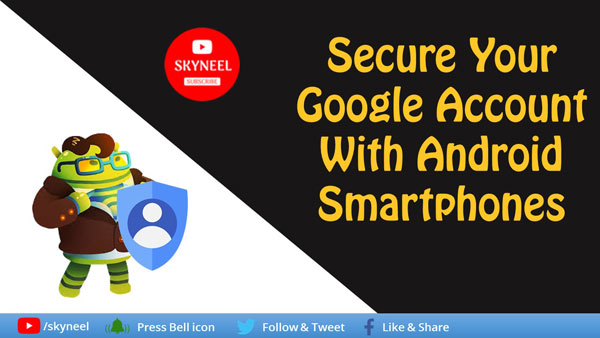 This feature related to the security of a Google account works like a hardware protection, which logs in with the help of Bluetooth, NFC or USB. Google has given this option the option of using an Android smartphone while converting this smartphone into smart options and certifying it with the help of a smartphone Bluetooth. In the already available 2-factor authentication feature, users have to put OTP while logging on to a new device. The new way is also easier and smart than it is.
Must Read: Smartphone can harm your neck and eyes disease, be careful
To make the Android device a key to the account, you must have a phone with Android OS 7 or later Android OS. Also there should be a device with Windows, Mac OS or Chrome OS, which has Bluetooth connectivity. It is also necessary to have a compatibile Internet browser in the device. Now you have to follow a few steps,
Enabled security facility
To do this, you must first activate 2 step verification for a Google Account. By going to Google Security settings, you will need to enter your mobile number and the OTP (One Time Password) that it arrives on. After this, 2-step verification will be activated for the account. If this feature is already active, you can go directly to the next step.
Visit the Google Security page on a PC
Now open Chrome browser on your PC and go to myaccount.google.com/security click 'Two-Step Verification' and log in with your account details.
Setup Optional Second Phase
On the front page you have to click Add Add Security Key and select the Android device registered with the Google account and click on the 'Add' followed by the 'Done' button.
(Keep in mind that both your PC and smartphone should have Bluetooth and location service during this period.)
Must Read: Smartphone can harm your neck and eyes disease, be careful
Use it as a security
Whenever you need to log in to the account, turn on Bluetooth on both your PC and smartphone and log into your Google account. Check the incoming notifications in your phone and authenticate the log-in with the instructions found on the screen.
In this article, we have told you about Secure Your Google Account. If you liked this article, you can also like our Facebook page and also subscribe to our YouTube channel. If you have any problems related to this article, you can tell us by commenting.