Hi, Today we will discuss on Solutions for some common Problems of Android Smartphones. Everyone we know very well that present time billion of users use android Smartphone but after some time android Smartphone users must have to face few common problems of android Smartphones like found connectivity problem in Bluetooth, Internet not working properly and many more. The main question arise in our mind how to resolve these kind of problems and to get the solution in that type of situation we have to talk our friends who have solid knowledge of Smartphone or ask the solution by calling to mobile company customer care executive and many more ways.
Many times the problem is very small, which can be cured by common tricks. So, today we talk how to overcome common Problems of Android Smartphones and get solutions of these problems by using few tips and tricks. There are lot of common problems of android Smartphones which is faced by most of the users but in this article we have to discuss top five common problems and solutions of android Smartphone.
Common Problems of Android Smartphones: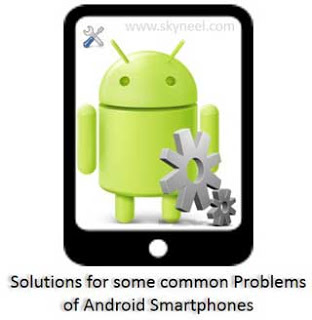 Bluetooth Problem:
It is often seen most of the android Smartphone users have to face problems in using Bluetooth. Either your Bluetooth device is not connected properly or does not search other devices. If you face Bluetooth connectivity or does not searching other device problem then you have to use a simple trick then you have to use first method – You have to close all running apps properly and switch off your android Smartphone, now again restart your Smartphone all Bluetooth connectivity features are working properly, if first method does not work then you have to use second method, in this method you have to clear cache memory of your Bluetooth and for this you have to go Settings option > Apps > select, All Apps option > Select Bluetooth Share option > Finally, click on the Clear Cache or Clear Data option.
After clearing all the data or cache memory your android Smartphone Bluetooth is working properly but in that case if both option is not able to resolve your problem then check your android Smartphone device's settings because most of the time the device is not visible apart of that check device name and paired device settings also.
Data Connection not found Problem:
The Android Smartphone users also face another common problem in which data connection of android Smartphone users is stopped due to change dual SIM settings or any other reason. If you face dual SIM or mobile internet setting's problem in your android Smartphone then you must use given trick to overcome that kind of problem.
First you have to select Settings option in your android Smartphone > Click on the More otion > Click on the Cellular Network / Mobile Network option > Now, you will get different options like Data Connection, 3G service, Preferred Network and APN address, now click on the APN (Access Point Name) option > Suppose, If you have a dual sim phone and you want to run internet on your Idea sim then click on it > You will get lot of option select Idea Netconnect option > Search the APN of your Idea Network from Internet and put it into the box your Internet start working properly. If you need then reboot your android Smartphone.
Note: APN stands for Access Point Name. APN is a setting of your mobile phone which is the gateway to access the external network for data e.g. GPRS, 3G or 4G mobile network and another computer network.
Application Problem:
Lot of time android Smartphone users download any heavy app which put lot of load on the processor due to that problem either your Smartphone working speed is go down or you have to face Smartphone will be hang. If you download any heavy app which does not properly support to your Smartphone memory and processor then you have to face app problem.
Must Read: How to take a backup of your installed apps in Android manually
So, always keep in mind before downloading any app first carefully read the permission and requirements , how much resources used by app in your Smartphone and many more. If any heavy app use memory card as well as internal phone memory then it will slow your phone speed. Remove these types of apps from your Smartphone immediately to avoid that type of problem.
Charging Problem:
Many time your Smartphone is not charging properly and this problem is faced by lot of android Smartphone users. Due to the loose of charging port of charger as well as phone charging port of the phone this problem is faced. Your phone is not properly charged due to the freeze lot of dirt in your charging port, in your headphone jack, USB post then you have to put small cotton on the top of toothpick to properly clean the dirt. You can also use ammonia cleaner, alcohol and nail polish remover to remove the dirt but avoid using it in the USB port. If your problem is not resolve after cleaning the port replace your phone charge immediately.
Battery Discharge problem:
Battery discharge is one of the most important problem , lot of person facing this type of problem in his android Smartphone. If your Smartphone battery is discharge quickly then the connectivity features and background running apps are responsible for that type of problem. To avoid that type of problem you must immediately close screen saver, connectivity features like Bluetooth, Wi-Fi, 3G, NFC of your Smartphone when not needed. If these features or programs continuously running on your Smartphone your phone battery will be discharge very soon.
Must read: Greenifyapp for slower and battery problem Android phones
You can also turn off internet connection during the charging your phone battery. If you turn on connectivity features your phone take lot of time to charge your battery. If you don't have enough time and want to charge your phone battery in quick way then first switched off your Smartphone and start charging. Now, after some time your phone battery will be charged in a short time.
If you take care properly of your Smartphone then i don't think you have to face any type of problem in your Smartphone. I hope you like all these few important trick to solve Common Problems of Android Smartphones which keep safe. Give your important suggestions in the comment box and also share your knowledge with others.