Call forwarding is an important feature which allows you to redirect any telephone call to another alternative number when you are busy or not able to pick the call. But this feature will be not comfortable when when someone try to trace your phone calls. In that situation we have to know the solution how to stop call forwarding from your phone number.
In our previous article we have already discuss how to check call forwarding activated on your number. With the help of this article you have to check if someone try to record your phone calls or not? If yes then you have to immediately talk to your telecom customer care operator. You just have to complain is your phone calls are forwarded or not. If yes then immediately stop call forwarding from your phone number.
Must Read: How to hide your apps from Android or iOS
Solution How to Stop Call Forwarding from your phone number
Most of the person have to ask that call forwarding feature is automatically activated on his phone. When you complain or inquiry regarding call forwarding then they said that this feature is not activated on your number by the telecom company.
It may be your handset problem, so you have to change the phone settings. In that situation what we have to do to overcome that type of situation. There is no need to worry you have to take few given simple steps which helps you to immediately stop call forwarding on your phone number. There are lot of important phone codes which you have to use on your  Android phone.
Step 1: Tap on the call button from your Android or iPhone. Tap on the dialer button and type the given ##002# code on your phone. Now, you have to tap on the dial button.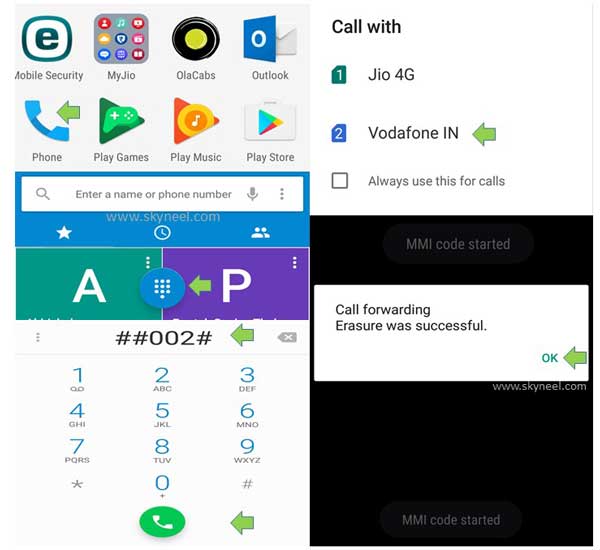 Step 2: If you have dual sim then select the sim name on from which you want to stop call forwarding from your phone number. Now, you will get an confirmation message "Call forwarding Erasure was successful". You have tap on the OK button and quit from the existing window from back button.
Must Read: How to Lock Specific Apps on Android phone
I hope this guide is useful for all those guys who have to face call forwarding problem. Now after reading this guide you can easily stop call forwarding from your phone number. If you have any suggestion regarding this guide then please write us in the comment box. Thanks to all.