At present time each person uses different Smartphone like Android, Windows, iOS and Blackberry. These Smartphone's provide apps which is very useful for us, but as per the configuration these smartphones are very costly as per the latest features, but we fell very badly when these phones are lost or stolen due to the main reason of they are very costly and also we have important or personal data in these phone's memory and SD card both. At this time the major question comes how could we trace these lost or stolen Smartphone? In this article you will get the tip how to track or find lost Smartphone.
Tip How to Track or Find Lost Smartphone
So, today we discuss about an important topic how to track lost or stolen any android, windows, iOS, blackberry Smartphone in this article. You can use security software and device manager to protect these Smartphone from stolen. With the help of few important gadgets settings in your Smartphone, You can easily trace or also remove all data, if your Smartphone is lost.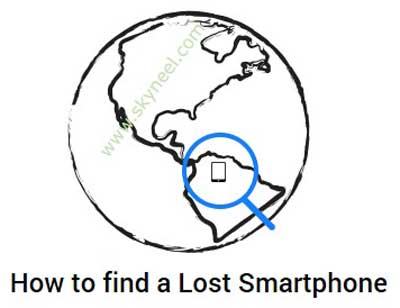 First you have to install any security software in your Smartphone, either using any kind of operating system. Many companies also provide different gadgets for tracking your Smartphone. But doing all these things you have to know complete knowledge of your phone, if you don't have any information regarding your phone you can type #06# to quickly view your phone IMEI (International Mobile Equipment Identity) number to easily found out your lost or stolen phone information.
Must Read:
How to make your profile secure on Facebook
Stay safe and secure by creating a secure password
For Android Smartphone Gadgets:
All Android operating system has its own tracking feature. You can download this feature from given link. After active device manager option user can get information about his Android device with the help of Google account. If you add your device with Android manager you can get your mobile information with the help of Google Map facility and also delete your Smartphone data remotely with the help of Android device manager click here to download.
For iOS Operating System:
You can easily tracking your Smartphone location and also change locking settings with the help of an important Find My iPhone app in iOS operating system. You can easily download this app from the iTune store. If you want to load this app in your Smartphone then you need iOS 5 or upper operating need. One more important thing if you want to use this app in your phone you must have to use iCloud facility of apple.
You can download this iCloud facility from iCloud.com. After properly download iCloud service in your phone you have to create an apple id. After complete this process it your phone is lost or stolen you just logged in on apple iCloud service and click on the Find my iPhone option to trace your Smartphone location and also delete complete data from your stolen or lost phone.  Click here to download and install Find My iPhone app.
Must Read: How to get lost Smartphone IMEI Number by Google
If you like this Find Lost Smartphone post, then please share your knowledge with your friends, colleague, family members and also give your important suggestions in the comment box. Thanks.