Hello friends, At present time most of the mobile manufacturer companies launch budgeted smartphone which comes with different great features and latest technology. Today we have to discuss about an important, safe and easy to use step by step tutorial how to TWRP 2.4.2.0 touch recovery for Micromax A110 smartphone.
This is TWRP 2.4.2.0 touch recovery, It is good recovery for Micromax A110. I like TWRP recovery. We have two methods of update and install Custom recovery. Root allows for you to use a maximum of your phone without any restrictions. After root you can install TWRP recovery and you will install custom apps, custom Rom and custom setting in your phone.
Preparation:
1. Your phone battery should charge 80% minimum.
2. Read all steps then do it careful.
Download custom recovery for Micromax A110:
TWRP 2.4.2.0 first touch Recovery: Click here to download
Must Read: How to update Micromax A110 with official Jelly Bean V3 in simple steps
How to root and install CWM recovery in Micromax A110:
Step 1: First root your phone, here is root guide for Micromax A110 Click here
Step 2: Download Custom Recovery as you want to install.
Step 3: Copy CWM recovery file on your SD Card and file must be recovery.img. If it has different name then rename it.
Step 4: Download and install MobileUncle Tools app on your Phone.
Step 5: Tap on the Mobile Uncle Tools app >>> After then you will get a popup tab for Permission >>> Tap on the Grant for SU app permission >>> Now Tap on the Recovery Update option.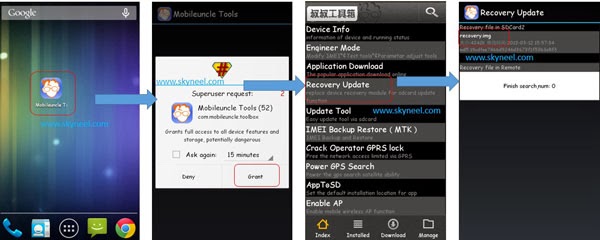 Step 6:  Now Tap on the Apply option. After then you will get two option reboot your Device or go to recovery mode. Choose as your requirement.
Must Read: Kill Switch : A necessary in App for all smartphones
Thanks and Credit: varun.chitre15 for recovery and Mobile uncle tool