Hello friends, At present time most of the mobile manufacturer companies launch budgeted smartphone which comes with different great features and latest technology. Today we have to discuss about the default launcher for Jelly Bean which is used in Micromax A110. This is Jelly Bean 4.2 Default Launcher for Micromax A110, Cynus T2 and any 4.1 Jelly Bean user. It is makes your phone fast and free more Ram for you.  It is working only 4.1 Jelly Bean and it makes more RAM free and improves performance of your phone. This Launcher tested on Cynus T2 Jelly Bean 4.1.1 and Micromax Jelly Bean update V3.
Must Read: Samsung Galaxy S4 Launcher for Micromax and Android device
How to install Android 4.2 default Launcher on Jelly Bean 4.1:
Step 1. First of all, Download 4.2 default Launcher and Copy this file on your SD card >>> And rename it Launcher2.apk >>> Now open root explorer app >>> copy this launcher file from your SD >>> Now open root folder >>> then open system folder >>> paste this file here.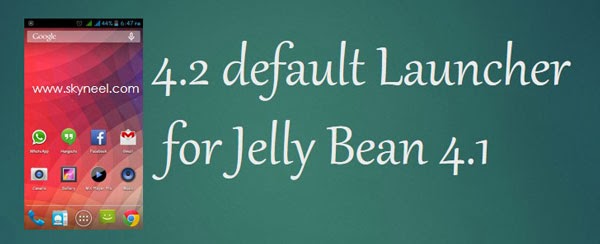 Step 2. Now press and hold on this launcher >>> you will get an option list >>> then tap on the permission option >>> And Set permission wr-r-r >>> Now move this launcher file on the app folder (system app) >>> And replace with your stock Launcher >>> Now Reboot.
If you feel any problem in set permission then read this post : Click here
Must Read: Windows 8 launcher and Lumia style for Micromax A110 and any Android Devices
I hope you like this post. Bookmark this post for future assistant and give your important suggestion in the comment box regarding this article. You can also share this article with your friends by giving below social media icons. Thanks to all.