Today is time of smartphones which are very costly. We all feel very happy when we buy an expensive phone. But if this expensive phone fell into the water somehow, our all happiness despair because it became very difficult for us to afford another expensive smartphone. So here some steps to do if your phone get wet or fell into the water.
Raining season came, this season also a fear of getting drench of our smartphone and ruin its function. If your phone drench or fell into water there are few tips by using them you can save them. Here you will see how to dry your wet phone and how it on again and start access.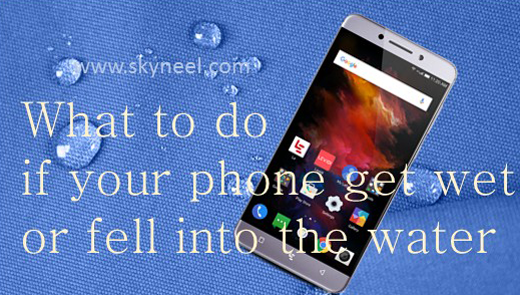 What to do if your phone get wet or fell into the water:
1: If your phone get wet or fell into water first switch off your phone. It will save your phone from short circuit. Never try to check whether your phone is working or not.
2: After switch off your wet phone separate all accessories of your phone like battery, memory card, sim card, and card attached with phone etc. This step will also save your phone from short circuit.
Must Read: Kill Switch : A necessary in App for all smartphones
3: If your phone has non removable battery like Nokia Lumia or iPhone then you have to turnoff button of your phone.
4: After separating accessories it is necessary that all parts of phone should be dry. For this you can use paper napkin or soft cotton cloth. To dry internal parts you can use dry rice. In a bowl of dry rice put your phone and cover it with some more rice. Rice soaks water very fastly.
5: You can use silica gel pack also to dry your phone. This gel packs used in shoe boxes.
6: Never try to dry your phone using hair dryer. The reason is this that dryer blows very hot air that causes phone circuits melt.
Must Read: How to make your profile secure on Facebook
7: You should not use headphone jack and USB port of phone till your phone completely dry. If you use them moisture may reach to the internal parts of phone.
I hope you like this post. Try these steps when you face this kind of problems. You can forward this post with your friends, colleague, family members and others.