WhatsApp Features Update : WhatsApp is working on a range of latest and existing features for Android, Apple iOS, Windows and web users. These features have been spotted by WABetaInfo, the website keep the tracks of upcoming features and changes in existing features in WhatsApp users.
While most of these features are already available to users who are enrolled in WhatsApp beta program, references for some features have been spotted in beta updates.
Must Read: New WhatsApp Voice Note Pause Feature Rollout _Now you will be able to pause and record voice notes
WhatsApp Features Update
In this article will explain few list of WhatsApp Features Update that you may be able to use soon. Few WhatsApp features already launched but you will get latest update in these features.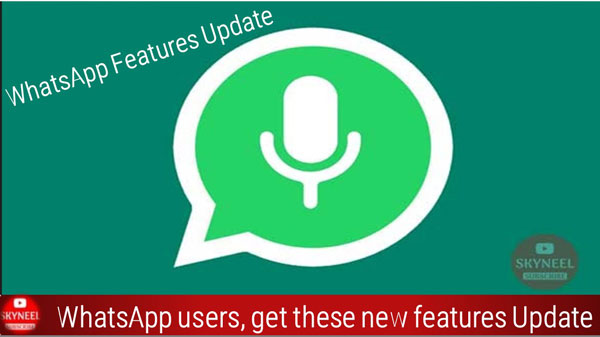 WhatsApp Group admins control
Group admins have control to delete the messages sent by other users in the WhatsApp group. WhatsApp is working on a new chat feature for group admins control. WhatsApp is planning to bring the ability for group admins to delete the messages which is sent by the other group members in a future update. WhatsApp group admins will be able delete anyone's message without asking any of the group member.
This will give group admin more control over group chats and will enable them to remove inappropriate text messages or video's. When an admin deletes a particular message in the group chat, users will see a note saying "This was deleted by an admin".
Simple and reliable messaging
You can easily send the message to your friends and family members at free of cost. WhatsApp sends messages using your phone's Internet connection so you don't have to pay for SMS.
2-step verification for WhatsApp Web / Desktop
WhatsApp planning to bring a new WhatsApp security feature for its desktop and web users. WhatsApp may bring two-step verification for the web and desktop users. Two-step verification is an optional feature that adds more security to your WhatsApp account with the help of PIN. The two-step verification PIN is different from the 6-digit registration code you will receive either SMS or phone call. It is required when you login to your WhatsApp account and is primarily aimed to prevent unauthorized access. It is currently available on WhatsApp mobile app.
Must Read: How to use whatsapp auto reply feature
Say your mind through voice messages
Sometimes your voice says everything. With just one tap, you can record a voice message, which is perfect for quick inquiries or recording long conversations.
New Animated Emojis
WhatsApp is working on new animated heart emojis for Android and Apple iOS users. Currently, when users send a red heart emoji, they see an animation where the heart appears to be beating. The animation effect is only limited to the red colour heart emoji.
Message Reactions
WhatsApp is bringing message reactions similar to the ones available on Instagram and Facebook Messenger. This feature allows the users to react to messages. Users will just have to tap and hold a message that they want to react to and then drag their finger to the appropriate emoji. The reaction will appear below the text and will be visible to all members in the group. This message already mention in Instagram and Facebook and WhatsApp provide the same feature for his users.
WhatsApp Group chat feature
WhatsApp Group chat features is also called community. Communities feature will provide more control to the Group administrators. The feature is expected to provide the option to create Groups within Groups. It will be quite similar to how multiple channels are arranged under an umbrella Discord community.
WhatsApp Search shortcut
WhatsApp is planning to add a new search shortcut to the redesigned contact information section. The new search shortcut will be added next to the video call icon in your WhatsApp screen. You will also be able to see the new shortcut in the WhatsApp group info section as well. Currently, the search button is located on the homescreen of the WhatsApp app. You can search for any message that you have sent or received using the feature.
Must Read: WhatsApp Calling: Guide How to reduce mobile data consumption
Restriction on WhatsApp status
The new WhatsApp shortcut will allow you to manage status privacy settings. The new shortcut is rumoured to work alongside the new caption bar which is also under development. The shortcut will allow users to edit the list of users who will be able to see their status updates shared. WABetaInfo suggests that you will be able to spot the upcoming shortcut at the bottom of the screen when you tap on 'Status'. With the shortcut, you will be able to quickly select the WhatsApp contacts with whom you want to share your currency or future updates.
Share photo's & video's in chat and status at a time
Whatsapp is working on a new feature that will allow the users to share the media as their WhatsApp status and with individual chats or Groups in a single window. Currently, if you want to share a single media file on your WhatsApp status and with multiple chats, you have to do it separately. With the feature, users will be able to see a redesigned caption view with added functionality. Users will be able to select the options where they want to share the media when they tap on the camera icon in a chat, Group or Status section.
Preview photos and videos shared
WhatsApp is planning to enable a new preview feature for shared documents in chats box. The Facebook owned platform is working on a new way to get the document preview when you share videos and images as documents in chats.
With voice calls, you can talk to your friends and family for free, even if they're in another country. If messages and calls don't work, you can talk to them face-to-face by making a free video call. WhatsApp voice and video calls use your phone's internet data instead of your mobile plan's voice minutes, so you don't have to worry about expensive calling rates. The preview feature will be similar to the one that is visible when you share a PDF file as a document on WhatsApp. WhatsApp is changing the design of the app window seen during group voice calls.