WhatsApp Messenger can be used not only for chatting, but also to increase business. A large number of people are using its WhatsApp Business App. On this, you just have to create your profile, give information about your goods, business address and website etc., after that you can directly connect with customers through WhatsApp. Not only this, you do not need to run WhatsApp all the time to quickly respond to every customer. The auto-reply feature found on this app makes your work very easy. Today we are going to tell you about How to use whatsapp auto reply feature in this article. If you liked this article, then you must comment about it.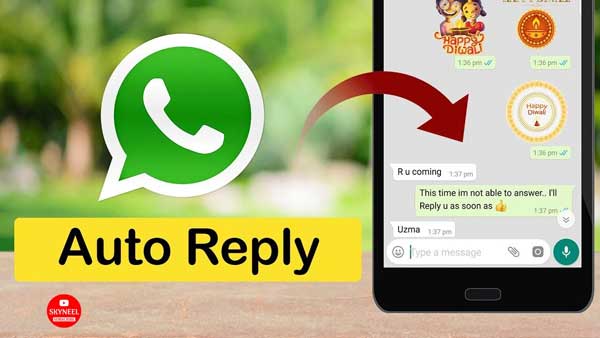 Whatsapp auto reply feature
In the WhatsApp business of users, users get the option of remote message. In this, you can set any message, which will be sent to the sender as auto reply. Not only that, you can also decide the time when auto reply should go. In the app, it is called Away Hour. So let's know how to use this feature-
Must Read: How To Delete WhatsApp Messages Up To One Week Older
Step 1. First go to Settings in WhatsApp Business App, then go to Business Settings.
Step 2. Now go to the message and tap on send message.
Step 3. Go to the message and type in the message you want to send to auto reply and tap on OK.
Step 4. Now you have to decide what time this message goes. Here you will get three options.
Always send: Select this option if you are not available for a long time.
Custom schedule: If you want to send for a certain time, go to this option and set the time.
Outside business hours: By selecting this option, Auto will send a message at the time of trade off. You can decide when your business is open in the Business Profile.
Step 5. Now you have to choose who gets this message. There are four options here.
All: The sender of the message will get an auto reply upon selecting this option.
Not everyone in the address book: Messages from unknown numbers will be copied here.
All except: Here you can decide whom to send.
Only send it: Through this option you will be able to auto-reply to the selected people.
Must Read: WhatsApp Feature: WhatsApp Always Mute feature, no messy messages
In this article, we have told you about How to use whatsapp auto reply feature If you liked this article, you can also like our Facebook page and subscribe to our YouTube channel. If you have any problem related to this article, then you can tell us by commenting.