WhatsApp Latest Feature: The process of fake messages is gaining momentum and popularizing people on the popular messaging WhatsApp app. Coronavirus (Covid-19) is rapidly spreading worldwide. 195 countries have come under the grip of the virus and so far more than 16 thousand deaths have taken place. Curfew has been imposed in many states to prevent the epidemic in India. In such a situation, people are sitting at home, sharing information related to corona and other matters online, some of which are true and some are fake.
The biggest source to share them is WhatsApp, on which messages related to Coronavirus are being shared at the moment, while people need to be more cautious at this time. In such a situation, WhatsApp is also making continuous efforts to prevent rumors from going viral.
WhatsApp Latest Feature: Whatsapp new feature
According to reports, the company is working on a feature that can confirm the authenticity of the message that comes to the user. This will be able to determine whether the message is true or just a rumor. It is expected that this fake message will be controlled to a great extent. The company has also confirmed that it is testing this feature.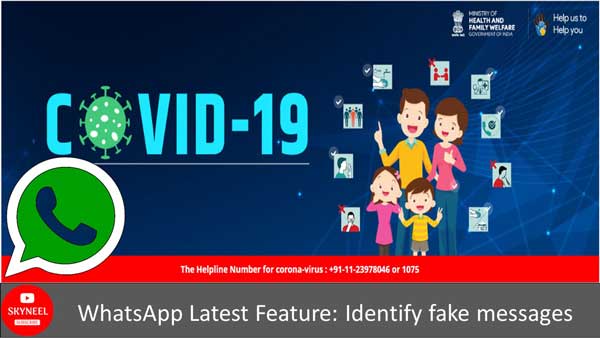 How WhatsApp Latest Feature Will Work
According to a report by Mumbai Mirror, the new feature of WhatsApp will be like magnifying glass. This magnifying glass icon will appear right next to the message coming to the user. This feature will search the content of the message on the web browser.
According to the report, clicking on this magnifying glass icon, a pop will appear which will ask the user if you want to search this message on the web. On getting permission, this message will be pasted in Google search.
This is just like we search for a message by copying and pasting it on the web browser, but this feature will work as a shortcut for this purpose.
According to the report, this feature has started rolling out for the beta tester and will be released for the version soon.
For this, people should not be confused with the new feature, WhatsApp is coming, it will tell the message is right or fake. In other words, you can easily identify fake messages using WhatsApp latest feature.