Due to Coronavirus Pandemic, the offices have given work from home to the employees. We are all working from our respective homes. It is very important to have a good Wi-Fi connection. But even after having a good connection, many times we have to deal with the problem of poor signal. It is possible that you are also facing this problem. Due to this, we are not able to do office work properly either. Due to this, we have brought some information for you through which you will be able to improve your Wi-Fi Speed.
Must Read: MyGov Corona: Government created help desk for WhatsApp users
First of all, you have to see which plan can get better connection. Which company has a good connection to your home? In this way, you have the option of a better plan.
Improve Wi-Fi Speed ​​- Wi-Fi Speed ​​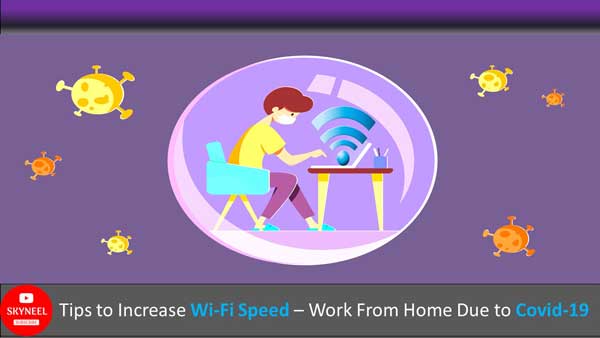 To improve Wi-Fi speed, take the following measures –
Must Read: WhatsApp Latest Feature: Identify fake messages WhatsApp
If other devices are also connected to your Wi-Fi that are not currently needed, then disconnect them from Wi-Fi. This will reduce waste bandwidth consumption
Keep Wi-Fi routers away from walls or electric appliances.
Placing a router near the wall or electric appliances breaks the Wi-Fi signal and does not improve your speed
Always keep the router open. Also, if possible, keep it away from metal like refrigerator.
If you are using a dual-band router that works at 2.4 GHz and 5 GHz frequencies. In this case, you connect your device at only one frequency. This will help fix your overall Wi-Fi speed and also reduce other device interference.
If your router has a LAN cable, you can use the LAN cable for better speed.
In a dual-band router, you can choose a 2.4 GHz frequency. Signal strength is also good in this range. Where your laptop or work device is and your router is at a distance of 10 feet, then a 2.4 GHz frequency router would be better for you.
You can use third party apps to detect Wi-Fi dead-zones. This detection lets you know of places where Wi-Fi is not working properly.
Repeaters and extenders can be used for Wi-Fi coverage.