If you have updated version of WhatsApp then you can easily use latest WhatsApp Status feature on your phone. WhatsApp Status feature is available for all the registered WhatsApp users.
The latest WhatsApp Status feature allows you to quickly upload any photos and videos to their contacts and it becomes live for all the users. Let start discuss how to use latest WhatsApp Status feature on your phone.
Must Read: How to make GIF image on Whatsapp
WhatsApp introduce his latest WhatsApp Status Feature
Your WhatsApp status will be disappear after the 24 hours. You can share your latest WhatsApp status with your contacts what's going on thought your day. You can also control who can see your WhatsApp status updates in privacy settings. Let's start and try to post new interesting WhatsApp status on your Smartphone. WhatsApp release his latest status feature for Android, iOS and Windows phone users. You can easily updated or change latest WhatsApp status with Images, GIF, Video with emoji's as per your need. You can also change the privacy settings of your WhatsApp account as per your need.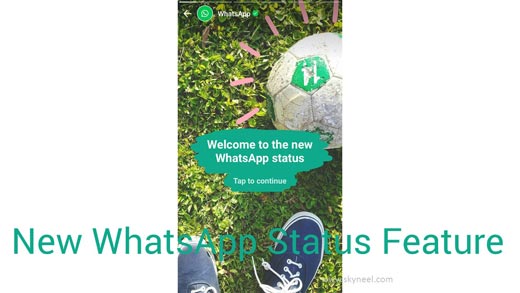 Before few days ago we are depended to set simple text based messages for your WhatsApp status. But, if you update your your phone with latest WhatsApp version then you can easily use latest WhatsApp status feature. Now you can easily upload any photo or video for your contacts. You can check how many person view your latest WhatsApp status and this could be done from "My Status" tab. All those your contact person's who are watching you updated latest WhatsApp status show the list of those person. You can also able to forward the WhatsApp status to your other contact person as a message.
Steps to set latest WhatsApp Status Feature
Step 1: Download and install latest version of WhatsApp on your smartphone.
Step 2: Turn on WhatsApp on smartphone. Tap on the Status option which is located between the chats and calls option.
Step 4: Select any existing image or take new image. You can crop the image, use emoji, insert or edit the text, increase or decrease the size. After finish the editing tap on the forward button. Now, you will get an confirmation message and finally tap on the send button.
Note: If you have more than one WhatsApp status then you can delete any selected WhatsApp status feature from your phone. To do this job first you have to select WhatsApp status and tap on the Recycle icon. Now, you will get a confirmation message you are want to delete this status update? You have to tap on the Delete button. You can also forward active WhatsApp status to other person as per your need.
Must Read: WhatsApp is running slow or not working properly?
After updating the WhatsApp status you can easily set an image, text, emoji, GIf as per your need. Hopefully this guide is useful for all those guys who want to use latest WhatsApp feature on his phone. If you have any suggestion regarding this guide then please write us in the comment box. Thanks to all.