This new Aadhar Pay app is the newest way of money transaction e-payment which is recently launched by IDFC Bank. IDFC is a new bank of private sector launched this app to make money transaction more easy. In this app those people can also do cashless transaction, who do not have phones.
In this article, we will discuss what is Aadhar pay app and what are its special features which makes it different from other money transaction apps. These are some facts about this Aadhar pay app which will help you to access this app and know about its advantages.
Aadhar Pay App : End of Credit and Debit card fees:
This is the biggest advantage of Aadhar pay app that it will end the fees of credit and debit cards. The merchants need not to give MDR for this. MDR means merchant discount rate, which is taken by banks as charges for their debit and credit card facilities. MDR is a kind of fees which merchants must pay to use the facilities of debit and credit cards. Now they can get relax from this MDR charges.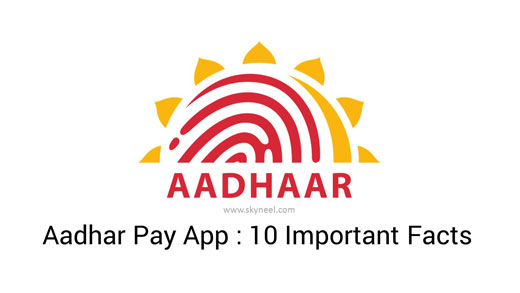 Must Read: 5 Safety Apps for Women
Cashless transaction without Smartphone:
This is the newest feature in this app. The merchants or shopkeepers need not to have smartphones to use this app. You can use this app without smartphones, which makes your money transaction more reachable for those merchants who do not have smartphones.
Password for this app:
This app uses biometric scan for password which means for money transactions fingerprints or biometric data can be validated. This features provides safety for money transaction.
Aadhar should be linked with bank accounts:
To use this app users should have to link their Aadhar to bank accounts. Only in this condition users can do money transaction with this app without using smartphones.
Steps to access this app:
1. First you need to download this Aadhar Pay app from Google Play store.
2. Then attach biometric scanner with your phone and link your app with it.
3. When you need to do payment for any customer, you have to enter Aadhar number in this app.
4. Now selection bank account in which you want to do your payment.
5. After that your biometric scanner will do your verification by your fingerprint.
Must Read: 10 Best Video Editor apps for Android
You can download this app from Google Play store and this app is now available only for Android phones. To access this app, you need to have internet connection. Through internet connection your biometric data will be verified. Through this app, you can do only payments. There is no option available right now for fund transfer. Money transaction limit also set for this app. You can only do up to 10000 rupees' money transaction through this app. This app is developed by IDFC bank with the help of UIDAI and NPCI (National Payments Corporation Of India).