Most of the person want to check how much RAM is used and how much RAM is free to use on your device. There are lot of background running apps we have on our device and they consume lot of RAM. In this article we have to discuss how to view free RAM on Android phone?
All we know RAM is an important for your device which shows your phone's performance then CPS specification. RAM stands for Random Access Memory. RAM allows you to check how much data are stored in all the running apps on your device. Most of the person feel that his device running slow and they want to know the exact reason. But due to lack of proper information they want to replace his phone with new one.
Must Read: How to resolve Android Lollipop Camera and Flashlight issue
Now, you must know how much RAM is consumed by specific apps. If apps are not useful for us then you can remove from your device and free the RAM. It not only increase your phone performance but also clean your phone with harmful apps. Most of the person have to use different kind of secrete codes of Android device to view the detail. But lot of Android phone users don't know how to check complete hardware detail like RAM, Processor etc on his device.
How to check free RAM on Android phone
We know that with the help of Settings > About phone option. You can easily check phone battery status, model number, processor info, Android version, build number and many more on your device. Now, you can determine how much total RAM do you have on your device or how much RAM free or consumed on your device. To view free RAM on Android phone you have to take few given steps, have a look.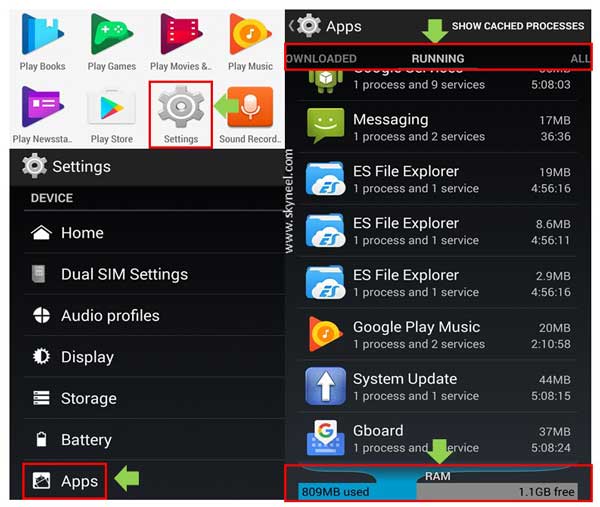 Step 1: After unlock your device you must have to tap on the "Settings" option on your phone. In phone settings windows tap on the "Apps" option which is located in the device category.
Must Read: 5 tips for secure Android Phone
Step 2: In Apps window you have three groups – Downloaded, Running and All. Tap on the "Running" group and check at the bottom point how much running apps consumed how much RAM. You can also check how much RAM is free to use on your device.
If you feel any running apps does not required for your device and consumed lot of RAM then you can easily identify that kind of apps. If you don't want to keep them then you can either tap on the force stop or remove from your device. Now you not only get much more free RAM space but also increase the phone performance on your device.
I hope after reading this guide you will get the answer how to view free RAM on Android phone? If you have any suggestion regarding this guide then write us in the comment box. Thanks to all.