Most of the bloggers need to add javascript, widgets or in other words gadgets to our website or blog to boost its content or functions. These gadgets are small tools or applications that can be added to a website or blog. Today we are going to tell you about Widget-HTML-Javascript in Blogger in this article. If you liked this article, then you must comment about it.

If you want to decorate your blog then you can easily inserting widgets on your blog. Most of the bloggers don't have knowledge of coding or web designing, but these gadgets are truly very effective tools for us. I know very well that you are able to inserting gadgets to your blog or sites. Novice bloggers are not able to properly installing gadgets on his blog. So, I try to told you how to use these gadgets or scripts on your blog.
Must Read: Adsense ad code converter it is free a tool
Process to adding Gadgets on your blog: It's very simple, you just follow given following steps carefully to easily adding these gadgets on your blog.
Logged in to your Blogger Account >>> Now, Go to the Layout option.
Click on the "Add a Gadget" option >>> Choose your required Gadget.
If must needed then modify it >>> Click on the Save option > Click on the Save Arrangements  option >>> Now, Check your blog or website.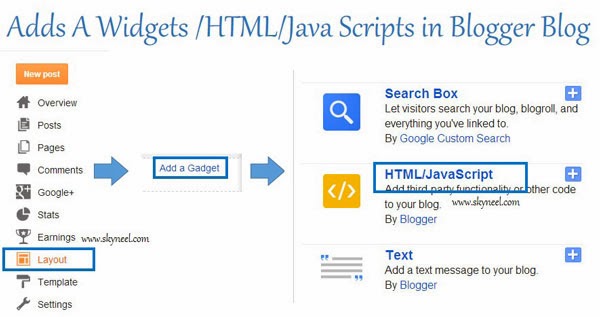 Note: During watching your web page or blog layout you get lot of "Add a Gadget" options you can choose any required gadget as per requirement for your blog.
Adding Widget-HTML-Javascript in Blogger Blog:
If you want set code for any third party or gadgets in your site, and then you have to follow previous procedure. Go to the Layout as usual-> Choose HTML/JavaScript gadget-> Copy your code this will opens a final popup  where you paste your code (HTML or JavaScript) under the content text area. Give it a title on the title textbox and click the button to save changes.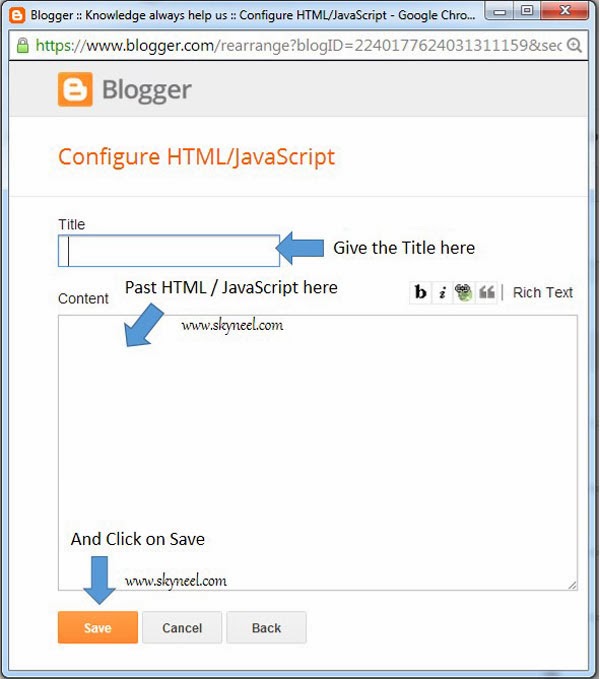 Basic Gadgets:
After striking the Add a Gadget button, you get few main gadgets. These gadgets are mostly used by the bloggers. By default there are 28 gadgets. I suggest you some of given below:
Google +1/ Circle/ Badge: Lets Visitors quickly recommended your brand and your content.
Google+ Followers New: Highlight your total Google+ audience.
Translate: Lets visitors translate your blog into different languages.
Follow by Email: Make it easy for visitors to contribute to Email mode when you publish a post.
Popular Posts: Display a list of most popular posts from your blog.
Blog's Stats: Display the number of pageviews to your blog.
Logo: Show your blogger pride by adding a logo to your page.
Blog Archive: Make it easy for visitors to navigate your blog with links to other posts.
Page Header: Displays your blog title and description.
Attribution: Display your blog's attribution data.
Note: During the give a better view of your blog, you must add gadgets, but you still remember on thing your site speed will be reduced if you are adding lot of gadgets. So be careful, during to adding gadgets. I suggest you that you only those gadgets which are very needed for your blog.
Must Read: Essential Tips and Tricks of Google Chrome
In this article, we have told you about Widget-HTML-Javascript in Blogger If you liked this article, you can also like our Facebook page and subscribe to our YouTube channel. If you have any problem related to this article, then you can tell us by commenting.
I hope you like this post. Give your important suggestion in the comment box and also share this article with your friends to show your knowledge in computer. Thanks.