Hello friends, today we discuss about how to know fake accounts in Facebook ? At present time lot of criminal activity are increased from the Facebook. India and Turkey these countries are forefront in the case of preparing fake accounts on Facebook. Two major issues have been reported recently in India, which Facebook has been swindle people using fake profiles.
Case 1 Robbery of Rs. 1.3 crore via Facebook
A woman from the Dehradun file a complaint to lose her 1.3 crore. As per this news from times of India someone promise to this woman to pay 9 crore to open old age home, but before this lady deposit the tax amount in advance in different bank accounts as per the receiving instruction from the robber's hoax.
Case 2 Make fake profile for porn things:
Today's lot of persons make his fake profile for porn things. They use any other person pictures on his profile page and make friendship with others. A Lot of persons uses Facebook accounts for doing criminal activities and it's very difficult to check fake profile accounts of the Facebook, but an important app is prepared with the name of "FakeOFF" for all the users which help to easily check any fake profile accounts and also provide few important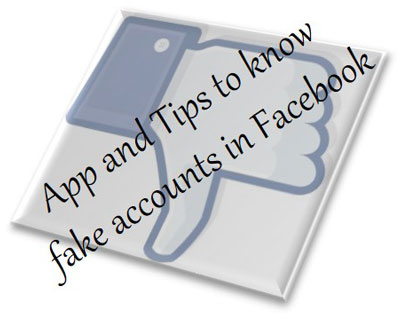 Tips to know about fake Facebook accounts.
This "FakeOFF" mobile app is prepared by an Israel company will help to deduct about any fake account on the world biggest social networking website Facebook. This app is designed by the Israel developer Eliran Schacher. There are many Fake accounts are in several groups on Facebook. From Criminal to these commercial, fake account to get all the way around. Facebook App using a special algorithm FakeOFF profile number is in the range of from 1 to 10. The existing scanning time was last year or 365 days.
This app checks different activity of the Facebook profile and then detected by the fake account. You can see all activities of Facebook timeline. This app is very popular, because after launch this app it has 15,000 users within two months. The main advantage of this app is that if users do anything, it will remain confidential and you can get real time notification also. In addition, the app let's throw off the image can be scanned fraught.
Must Read: How to take easily backup of your Facebook Account
Important Tips to know fake accounts in Facebook:
Profile picture and other photos:
Every real Facebook account holder has minimum one or two original pictures on the Facebook. If you get any kind of friend request first you have to check the profile of unknown person. But if you don't get any real picture, then it might be a fake profile. If that seems like a real photo looks then you can search on the Google. For this you can take the following steps:
Steps: 1 Save the photo on the desktop which you want to search.
Steps: 2 Open the internet browsing software.
Steps: 3 Drop the photo on Google Image. Google automatically displays similar pictures as per the dropped photo.
Name Search:
Not just the photos, if you suspect any fake profiles on Google Search on that profile name. If it's real name, so there's no fuzzy search on Google will get you the same results.
Celebrity Profile:
Please be careful, if any person has sent you a friend request, which claims to be the profile of a celebrity, because no celebrity send this kind of request. If you follow any celebrity account, then always remember that each celebrity profile has a blue check sign, which is available only in verified accounts only. If you follow any celebrity account, then always remember this things.
Must Read: Easy Way to Permanent Delete | Deactivate Facebook Account
Fake Gender:
Fake Facebook account for more than half are made in the name of a girl. So before making any unknown girlfriends make a thorough investigation properly.
Don't talk to strangers:
If anybody sends you a private message, properly investigate his profile before accepting his request. If you want to accept a stranger's friend request, his real friends, profile picture, do not hesitate to inquire about.
Always set privacy settings:
Always remember about your profile privacy settings. You can look your personal photos, and also active privacy lock in your Facebook profile settings. Who can the message, which can send friend requests, who can send notifications and who can tag, on all these features, users can customize the lock.
Check Date of Birth:
People who create fake accounts on Facebook uses very much 1/1/XX and 31/12/XX as his date of birth. If you get any suspect regarding the date of birth first check them.
Read carefully Facebook profile:
People who create fake accounts on Facebook, either they don't give him education detail or they give and high institution degree. For example, if a 22-year-old man claims that he is the CEO of a company, then it may be fake account. Such people should avoid.
I hope you like this how to know fake accounts in Facebook guide from which you will be able to easily know fake accounts in Facebook. Thanks to all.