Nowadays as we are getting so habitual of Facebook and we upload so much our personal info and other data on Facebook in name of updating status, it become a big issue that how can we keep our Facebook data safe. So, it is good for users that they should regularly download their Facebook content and secure its backup. Facebook itself suggest users to take backup of Facebook content. This process is very easy. After reading this article you will be able to easily take backup of Facebook Account and keep safe of your important data. 
How to take backup of Facebook Account
If you have Facebook account then it is always a matter of worry of safety of photo, comments and other data. There are many reasons of it. Because hacking of Facebook account become very common now a days. Although users become careful but till they got victim of hackers. Sometimes user get their Facebook account after hacking but in this they lose their data too. Changing policies of Facebook input worries in users mind about their data.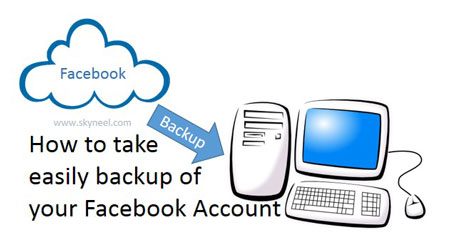 Users can download all data from Facebook account. Your all data, status, messages, profile information, photos, videos, friends related info, wall post etc. all can be download and store in computer.
How to download Facebook data:
Step 1: First login your Facebook account.
Step 2: You will see option Account on right side on Facebook. Click it.
Step 3: Now select Account Settings.
Step 4: When page opened, you will see link Download a copy of your Facebook data in below side of page.
Step 5: When click this link a new page will open, where you will find Start My Archive button.
Step 6: When you click that button the process of Facebook account backup will start.
Step 7: When this process will complete you will get email on your registered email address for verification.
Step 8: Open your email and account and click the link send by Facebook.
Step 9: When password asked, input that and click download button.
Step 10: Your all data will be downloaded in compressed (zip) file.
Step 11: After downloading unzip that file.
Note: Take Facebook data backup regularly.
After download
• When you download zip file, it is very easy to use all download data in it.
• When you unzip zip file, two folders will be made – Photos and HTML.
• There are few sub folders in photo folders like profile pictures, wall photos etc.
• In HTML folder there are many web pages and style files.
Must Read: How to Watch & Remove Your Facebook Search History
What is in backup
In downloaded file from Facebook there are all contents which you see on Facebook page like:
• All information of your timeline.
• Photos shared by you.• Videos uploaded by you.
• All wall post.
• Sent and received messages
• Chat messages
• Events added by you.
• Your notes
• Your friend list
If you feel that all these data are not enough, you can use Facebook's expanded profile download facility. For this in step five you will see a link Expanded archive, click that. When you click that you have to verify your password again. In this facility there are so many information included technical and administrative information like on which IP address your post was updated etc. For common users there is no need ot download expanded files.
Is this a safe process
This process is very safe for users. In this process you have to verify your account twice, first before sending link for download and second after email sent. If you are using a system which you not usually use to access your Facebook account then you have to complete one more step of verification. You have to answer a question related to your friend's photos or you will get message on your cell number, through that you have to verify your account.
Must Read: How to make free call by Facebook messenger on Android andiOS
If your account get hacked
If your Facebook account hacked by a hacker and you couldn't access your Facebook account than you can start the process of restore your account by using these link addresses:facebook.com/hackedfacebook.com/help/securityFacebook always help you to take control of your account.