Hello friends we know very well that at present time billion of users have to use WhatsApp facility in his Smartphone. There are lot of tips and tricks which you use in your Smartphone which helps you very much but due to the absence of knowledge most the person don't use these tips and tricks. Today we discuss how to transfer or move WhatsApp chat history from old phone to new Smartphone.
Lot of time we have to change our Smartphone due to the latest technology, but you must lost your previous WhatsApp chat history so question arise in the mind how could you move or transfer your WhatsApp chat history from old phone to new phone. After reading this article you will be able to easily do this thing and your problem will be solved.
Must Read: WhatsApp is running slow or not working properly?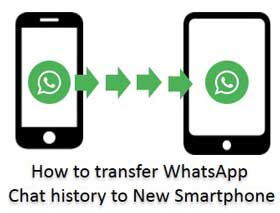 How to transfer backup WhatsApp chat history from one phone to another phone:
If you have an old Smartphone in which you are running WhatsApp messenger and lot of friends and family members are added with you. Now as per watching trend most of the persons who love to use latest technology Smartphone but want to move or transfer your all previous WhatsApp chat history in to new Smartphone then you have to take following given easy steps:
Step 1: First you have to take backup of all previous WhatsApp chat history from your old phone and for this you have to turn on the WhatsApp messenger on your old Smartphone phone > tap on the 'Settings' option > In the Settings window tap on the 'Chat Settings' option > you will get different options in the Chat settings window now, tap on the 'Back up Chats' option > When you choose this option It will create a backup file with in few minutes in your SD card or your internal storage area.
After taking successful backup of your previous WhatsApp chat history of your old android phone it shows your last backup notification which shows the last backup date and time on the screen.
Must Read: How to recover deleted chat lines in WhatsApp
Step 2: Now, Connect your old phone with the PC (Personal Computer), Laptop or Tablet via USB data cable > After some time it your computer will deduct your old phone now Turn on the USB storage option and click on the OK button > After few second your old mobile phone is connected with your computer > Now, you have to double click on the search removable drive to open the mobile storage drive on your computer from My Computer window > Search the WhatsApp folder in your old mobile phone storage > Now, you have to copy the complete WhatsApp folder in any other drive on your Computer, which data you want to transfer in your new phone > Now remove your old phone from the USB data cable.
Step 3: After removing the old phone you have to connect your new Smartphone in which you already installed and running the WhatsApp messenger > Properly Connect your new Smartphone with your computer via USB data cable > After properly connected your new Smartphone with the computer you have to double click to open the storage location and copy your old WhatsApp folder and paste or replace with new phone WhatsApp folder.
Step 4: Now after copying complete WhatsApp folder remove the phone from the USB data cable and Turn on WhatsApp on new Smartphone > When you turn on the WhatsApp on new Smartphone you have to activate new SIM then after click on the Agree and Continue button.
Step 5: You have to set the Country location and feed either your old or new mobile number on which you are running the WhatsApp messenger, then tap on the Next button > It will automatically deduct WhatsApp data on your phone and ask you to restore your WhatsApp data in the new Smartphone by clicking on the Restore button.
When you click on the Restore button your WhatsApp restoring process will be start and it will take some time to restore all WhatsApp chat history in your new Smartphone.
Must Read: How to Install WhatsApp on PC or Laptop with BlueStacks
Note: During the Restoring WhatsApp data process in your new Smartphone you must have proper internet facility in your Smartphone, otherwise some data you will be lost during this process.
Finally, your all old Smartphone data will be transfer or move into the new Smartphone. Enjoy and continue chat to your friends, family members and others with the help of WhatsApp messenger.