Hello friends, all we know very well about the WhatsApp. WhatsApp messenger is allows any Smartphone users to easily send and receive any text, audio messages and video's also as per your need on different platforms like Android, Windows, iPhone, BlackBerry and other Smartphones. So Here we go to install whatsapp on pc.
All we know that WhatsApp massager works on Smartphone only and other persons who doesn't have any Smartphone they fell problem due to not have WhatsApp facility on his simple phone. But now any simple phone users who does not have any Smartphone but have personal computer, laptop and notebook able to run WhatsApp on his computer with the help of given tip and tricks.
There are different ways from which any user easily install and run WhatsApp massager as well as also run different games and apps on his computer by using few simple steps. At present time billion of users have to use WhatsAppin your Smartphone. You can also recover any deleted WhatsApp chat without any problem by clicking on this article: Recovery of Deleted WhatsApp chat on Windows Mobile.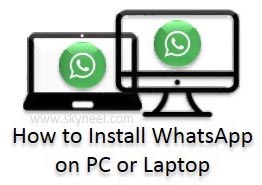 So, today i am discussing with you how could you easily install and run WhatsApp messenger on your computer on which you have Windows XP/ 7 /8 /Vista operating system with the help of BlueStacks software. Before starting the processing first we have to know what the BlueStacks is and how could this software works to run WhatsApp on your computer.
BlueStacks:
This software is developed by an American mobile company that provide BlueStacks App player and GamePop Microconsole to active android applications to easily run on Windows, Macintosh computer and televisions also. It is the most reliable but oldest method from which you can easily run WhatsApp on your personal computer, laptop, and notebook without any charge. But lot of time you most of the users complain about BlueStacks installation problem that this software need graphic card to run this program properly on your pc or it will take lot of time to load on your system so due to watching this type of problem you have to install light version of BlueStacks program or updated your hardware parts of computer then you don't have any problem to run this program on your computer.
Must Read: Review of Whatsapp Voice Calling App on Different Networks
BlueStacks software easy to download and install on your computer and it will occupied 12.9 MB space on your hard disk. This software provides you search button from where any user search and download any required
WhatsApp app, any games and many more. You can easily add and new contacts from which you want to starts calling and chatting both. You can also able to customize or manage setting of your BlueStacks by clicking on the icon which is placed on the top right corner then click on the "Settings" option. From this window you will be able to change your profile, account, chat, notification and contact settings as well as you can also take any online help facility, read frequent asked question and many more as per your need.
Features of WhatsApp for PC
All you know very well about the WhatsApp messaging app that it is free to use app only for one year then after you have to pay $0.99 per year. WhatsApp allows you to send or receive any text, audio messages to your family members, friends and others which you added in your phone book without any charge and without any advertisements.
How to Install WhatsApp on PC:
If you want to run WhatsApp on your personal computer, laptop and notebook then this guide will be helpful for you. From this guide you will be able to easily install and run WhatsApp messenger, different type of games and other apps with the help of BlueStacks software There are few important and simple steps given below please read them carefully..
Step 1: First you have to install BlueStacks software on your computer, laptop or notebook either by searching how to install BlueStacks on your PC in the browsing window or you can also click on this given link to directly download BlueStacks software from his official website by clicking on this given link: Download BlueStacks:
Step 2: If you want to download BlueStacks software for Windows or Macintosh operating system then click on the required download button. Now your downloading will be start. After completed downloading double click on the executable file to run this software on your PC.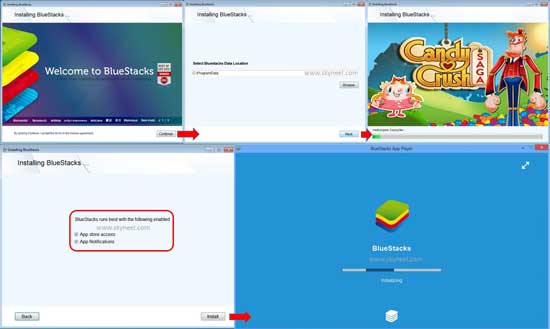 Step 3: Once BlueStacks software install on your computer it will take some time to automatically load and start on your desktop area, after that you must have to configure this software with your Google account.
Step 4: Now, click on the Search button and type WhatsApp then click on the search play for WhatsApp button, it transfer your control on play store > Now, click on the WhatsApp Messenger button to download and install this app for your pc.
Note: You can also install other required apps, messengers, games and many more things as per your need.
Step 5: After installation is completed successfully click on the open button > Click on the Agree and continue button. This will show you another window in which you have you have to verify your phone number by selecting your country and then type your mobile number then click on the OK button. Now you will get a verification code or received any call which told you verification code number. Now fill this verification code number in the box then click OK.
Step 6: After finish this process you will be able to add one or more contacts by clicking the Contacts tab then click Plus sign button > Fill name, email id, phone number and other required information of the person which you want to add in your contact list then click on the Done button.
Now, contact will be saved in your list if you want to send any message to that person then click on his mobile number and start typing to send any text, audio or video message with any pictures and emoji.
Must Read: How to secure your Android Device with 9 tips
I hope you like this install whatsapp on pc guide and now you will able to easily install WhatsApp on PC or Laptop. Read these steps carefully and then show your knowledge by help to other person who feel difficulty to install WhatsApp on PC with the help of BlueStacks. Thanks to all.