This is a guide of how to recover deleted chat lines, image and video in whatsApp. WhatsApp took a regular automatic day to day backup and store it on your phone's SD card. If you want recent updated backup then you must un-install and re-install WhatsApp on your phone. You will get an option "Restore your message history" during the installation. You can select Restore option to get back your missing chat lines. Within a week you can easily restore from your backup. Within a week you can take your chat history by manual backup.
Must Read: WhatsApp is no cost to message and always touch with your friends
How to take easily manual backup of WhatsApp chat, image and video:
Step 1. Go to the apps menu on your phone and tap on the WhatsApp >>> Now tap on phone Menu Button, you will get an option list. Find the setting and tap on it >>>>> Now tap Chat Settings option >>> After then tap on the Backup conversations.
Step 2. You can take backup of WhatsApp chat history and easily saved in your Smartphones SDcard ( You can find it onto Databases folder and this folder place in  the WhatsApp folder on sdcard) as the name "msgstore.db.crypt" >>> Now you must change the name of this file by date or as your conveniences. Example "msgstore-DD-MM-YY.db.crypt"
Must Read: Increase internal memory in Android Mobiles in easy steps
How to easily recover deleted chat lines, image and video from WhatsApp backup:
Step 1. First of all tap on the phone menu button, then tap on manage apps option. If you don't find  manage apps option by phone menu button, then open system setting >>>> and tap on  apps >>> Now find WhatsApp app and Uninstall it.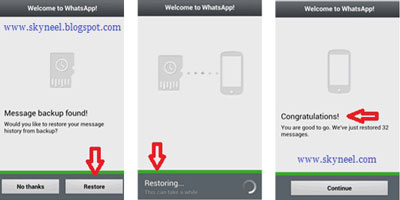 Step 2. You must decide first, which file of backup, would you like to restore on your Smartphone >>> Now rename that file from "msgstore-DD-MM-YY.db.crypt" to "msgstore.db.crypt" and install WhatsApp app on your phone or your device >>> In the WhatsApp installation process, you will get an option to restore WhatsApp backup, then choose this option and get your data back, that's all. Credits : WhatsApp