Now Hindi got its domain which is recently launched by Indian government named .bharat. In this domain devanagari script is used. This domain will cover 8 other languages including Hindi. Now registered websites can add .bharat in their URL address instead of .in, .com, .net, .org etc. Now website's name can be keep in languages which use devanagari script like Hindi, Bodo, Dogri, Konkani, Maithili, Marathi, Nepali and Sindhi.
Govt launched bharat Domain for hindi
At the time of launching Communications and IT minister Mr. Ravi Shankar Prasad said that this domain should not stop at eight languages, soon this domain will cover all other Indian languages. For this NIXI (National Internet Exchange of India) will soon launch domain name for Urdu, Bangla, Punjabi, Tamil, Telugu and Guajarati.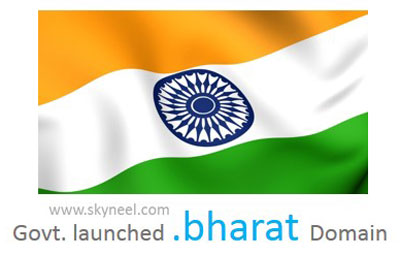 The CEO of NIXI has told that charge of each domain will be Rs.350. Sub-domain will be available at the price of Rs.250. In starting two months this domain will be only for those company who has copyright or trademark. After that this domain will be available for all. The companies who register domain names also can register domain name in Hindi.
Must Read: Indian Railway launched free app to get enquiries of trains
Ravi Shankar Prasad said that govt. will connect about 60,000 villages with broadband by this year. In next year one lakh villages and another one lakh in next of that year broadband will be reach through National Optical Fiber Network. Till end of the March 2017 about 2.5 lakh Gram Panchayats should be connected with high speed broad band. About Rs.35, 000 crore will be estimated amount for this plan.
In this Govt launched bharat Domain for hindi there will be no need to write www. to search any URL, as it have to done previous. Till now we have to type URL in English to search anything but now we can type the URL in Indian languages.
Must Read: How to type Indian Rupee Symbol in Microsoft Word
Hope soon we will get the domain in all Indian languages. Jai Hind.