The Indian Rupee symbol was (₹) released  on 15-07-2010 for the public by the Indian Government. In this post you will see that how to use code and option of word to add the Rupee symbol in Microsoft Word.  Microsoft has released an update for the new India Rupee symbol. It is inbuilt in the new version of Microsoft Office like office 2010, 2013 and office 365.
This is essential with the aim of the Indian Rupee symbol is shown correctly in the Microsoft Word. If you are not installing this update then install it from Microsoft. We are providing you a link of this update. We need it so many times, it is very simple and easy to insert in our documents.
Must Read: Run XP simultaneously in Windows 7 and 8 by XP Mode
Download and Install Indian Rupees update in your Microsoft Office Microsoft Rupee symbol support update for Windows
1. Type Indian Rupee Symbol by keyboard shortcut code:
Use the keyboard shortcut code >>> Press Alt with type 8377 (Alt+8377).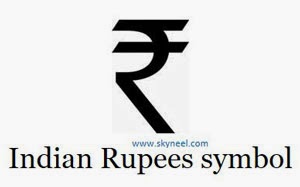 2. Type Rupee Symbol by Unicode:
U+20B9 is The Unicode of Indian Rupee symbol. Type 20B9 code and press Alt key with X (Alt+x) where you want to add Rupee symbol in the word file.
Must Read: Solution of Printer spooler service problem in Windows xp, 7 or 8
3. Type India Rupee Symbol by Character Map:
Step 1: first of all click on Start button, then click on Run or Window key + R for Run tab. Now type the "charmap" command in Run Box and click on OK.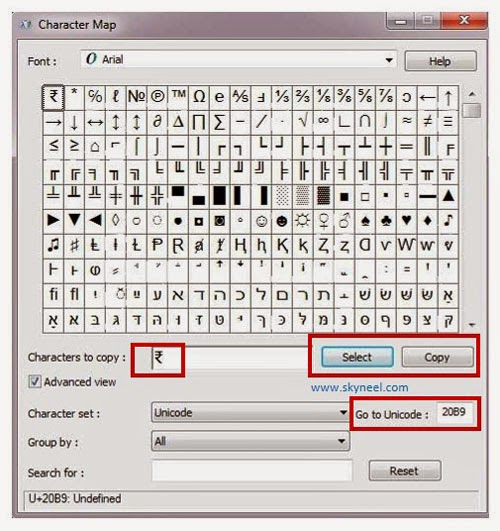 Step 2: Open character Map window, you will see "Advanced View" option. Now tick on "Advanced View". Find "Go to Unicode" and type 20B9 in the input box and you will see the Rupee symbol. Now click on select after then click on copy and paste this symbol where you want use it. That's all.
I hope you like this guide from which you will be able to easily type Indian Rupee Symbol in your documents without any extra efforts. If feel any problem in this guide then please use comment box. Thanks to all.