This is a guide of "How to install custom fonts in Android phones". You can easily change your Android device fonts. So, install custom fonts in your Android phones and make more attractive your device.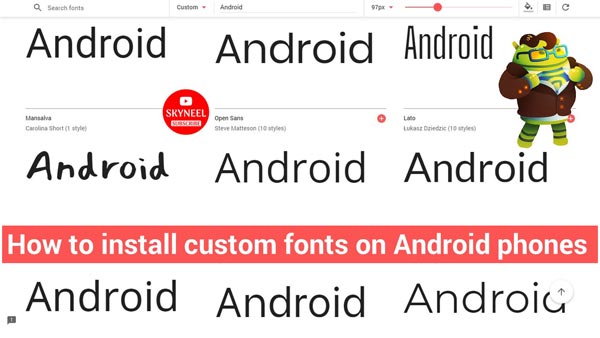 In this process, we required to rooted phone and root file manager app like Root explorer app and some custom fonts. Here is process of font change. If your phone is not rooted then you can find your phone root guide click here. Download custom fonts. Download Root explorer from Google play store, click here  (If you don't want to buy app, then use similar free file manager)
Must read: How to set Picture Password in Windows 8 step by step
How to change or install custom fonts in Android device:
Step 1. First of all download custom fonts and save them on your SD card >>> Now, open Root Explorer >>> Then after going to your SD card, where your fonts save >>>And select fonts and copy all your fonts.
Step 2. Now go to your root folder >>>And tap on the system folder >>> You will see a font's folder, then open this folder >>> Now paste here, all fonts >>> you will get a popup tab to replace your phone fonts with your custom font then tap on "yes".
Step 3. Now select your all fonts and tap on the phone menu button >>> tap on permission option >>> and set permission on all fronts wr-r-r ( If you have any problem in giving permission, then read this post, click here) >>> Then reboot your phone. That's all
Must read: How to remove dalvik cache without using custom recovery
I hope you like this custom fonts guide from which you will be able to easily install custom fonts in Android device without any extra efforts. If feel any problem in this guide then please use comment box. Thanks to all.