Hello friends, This is a simple and easy step by step guide to install vcom driver or MTK Preloader driver. This  is most important driver for all Mediatek (MTK) and Micromax phones. If you are facing issue of your Android device not detected by SP tool and PC suite, then install these drivers on your PC.
Must Read: Precaution to avoid Smartphone battery exploding
How to install vcom driver or MTK Preloader driver :
Step 1: First of all, download and extracts Vcom driver or MTK Preloader driver Click Here To  Download.
Step 2: Now right click on My Computer and  click on Manage option. In Windows 10 you can click on start button then click on Manage option, then click on Device Manager. After then connect your switch off Android phone with PC vai USB cable.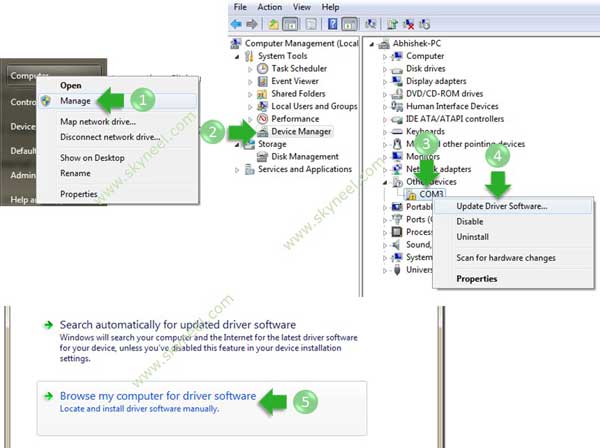 Step 3:  Now you will a Missing yellow icon in  see Device Manager list, then right Click on Missing yellow icon in the list (see in the image).  Now click on update Driver, then you will see a new window. Here you select "Browse my computer for driver software" (see in the above image)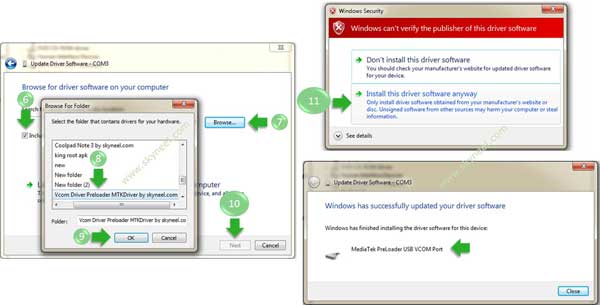 Step 4: In the next window you must check on "Include subfolder" then click on Browse button and select Vcom Driver Preloader MTKDriver folder and click on Next button (see in the above image). Now you can see a red highlighted new window, click on "Install this driver software anyway". After few second you will get a message window for successfully install Vcom Preloader MTKDriver .
Must Read: How to take a backup of your installed apps in Android manually
Video tutorial of install vcom driver:
This video guide tells us an installation of vcom driver. Some people have a problem in flashing and updating phone update and Rom because phone did not connect properly with PC due to driver issues. It is also important, when we connect Android phone to PC suite. So watch this video and solve your driver problem. I hope, this video will help to you. It is very simple & easy process.
Must Read: Google Play Store error and solution to fix them
I hope you like this install vcom driver guide from which you will be able to easily install vcom driver and connect your Android device with PC or Laptop without any extra efforts. Bookmark this post for future assistant and give your important suggestion in the comment box regarding this article. Thanks to all.