In this article we will discuss about the "What is WiFi" and terms which is related to it. You known very well at present time you can easily connect your device with internet via WiFi facility. After reading this article you will be able to know what is the WiFi and how it works on your device. As it is the age of internet everyone wants to be connected to the internet to get updated all the time. To connect with internet many ways can be used like 2G, 3G data connection, net connection, Wi-Fi, net data plan etc. There are few terms related to Wi-Fi like WPA2, WPA, WEP, WPA-Personal and WPA-Enterprise, which is kind of puzzles for users. Let's know about these terms:
What is WiFi and how it works on your Device: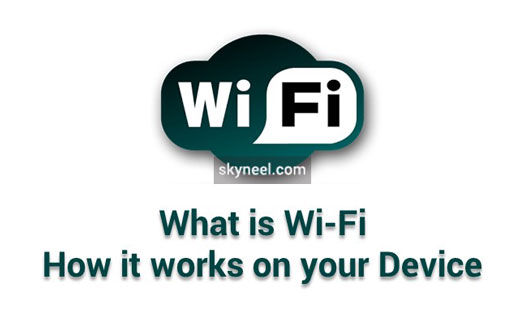 WEP (Wired Equivalent Privacy)
This is a process which helps to secure Wi-Fi connection. Although it seems very secure cause of its so heavy name but it is really a very weak way to connect. Anybody who has little bit tech knowledge can hack it easily. In fact in old routers there was not any option except WEP, that's why users connect net through it. In new routers there are many options available now to connect net. You should upgrade it, if you are using old router.
Must Read: All queries of math's can be solved by Wolfram Alpha app
WPA, WPA2 (Wi-Fi Protected Access)
This is a new standard of Wi-Fi security. WPA was the replacement of WEP. It is a good way to improve security of Wi-Fi connection. WPA2 is the best option right now to make Wi-Fi connection more secure. In this all drawbacks of WPA have been removed. In all new routers or network connection device the option of WPA2 is always available. In advance device, there are two versions of it available:
WPA-Personal WPA-Enterprise
WPA –Personal is a way to secure Wi-Fi connection in home or small offices. It works in smaller area. With this user connect device with Wi-Fi by a special password. Its weakness is that if there is a common password of it, then there is always a chance of it to be leaked and it can be easily anticipated.
WPA-Enterprise
WPA-Enterprise mostly used by big companies. In it whenever the user connects to Wi-Fi he has to give a unique user name and password. There is a different password for each system. RADIUS authentication server is needed to secure net in this way.
Must Read: Should we get Insurance for our Smartphones?
Which way is safest
We already discussed various ways to secure Wi-Fi connection in all of them the safest way is WPA-Enterprise, but the user has to have a RADIUS authentication server. If it is an issue of personal use, then WPA2 is safe, but user should be careful while selecting a password which can't be easily hacked. Never try to use WEP as mentioned it is a very weak way to secure connection.
I hope you like this What is WiFi article from which you will be able to easily understand what is WiFi and how it works on your Device. If feel any problem in this guide then please use comment box. Thanks to all.