Telecom company Reliance recently launched latest Jio Browser Fast, Lite version app for Android phone. Jio browser is the first Indian browsers which is developed to attract the Indian users. Jio Browser app is very fast and easy to use browser which occupied very low space. You can install this app at your Android phone and get the better experience of watching video, news and many more.
This app also supported in 8 Indian languages thus making it an offering exclusively for Indian users across different states. Users in this browser will be able to browse faster internet. In this app, you can also get incognito mode which is used for private surfing. You can easily download and install this Jio browser app from Google Play Store.
Must Read: Reliance Jio Internet or WiFi Speed Notification Bar on Android Phone
Jio Browser app support 8 Indian languages which include Bengali, Gujarati, Hindi, Kannada, Malayalam, Marathi, Tamil, and Telugu. By default, the browser works in English language. When you changed language from English to other regional language, this app automatically changes interface element and content of latest topics. You can also change the text size, clear cache, clear browser cookies from browser settings option.
Jio Browser Fast, Lite App
The Jio Browser also has a default favorites tab that lists websites such as MyJio, BookMyShow, AJio, Amazon.in, Flipkart, NDTV, Facebook, Yahoo, LinkedIn, Twitter, Instagram and many more. You can get trending, entertainment, politics, sports, and others related current news and video's at your phone screen.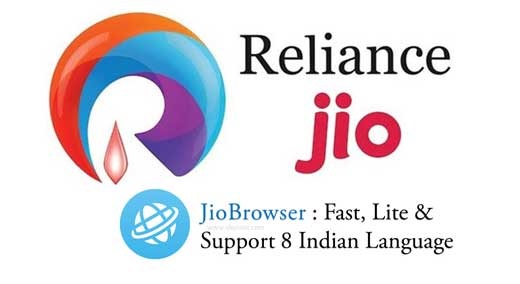 Developers added the feature in this app to manage the files which they download at his Android phone with the help of Jio browser. Reliance Jio is also asking users to provide the feedback of this app. You can give your feedback in the app comments section or via email so that they can improve the browser experience for his users. This app is currently available for Android 5.0 or upper version but not available for Apple iOS platform.
Jio Browser app features:
Fast & Easy: Jio Browser is first Indian fast and easy to use browser for your android smartphone, due to small size of the app. This app is is extremely light and provide better work experience at your device.
Regional language support: The Jio Browser supports 8 Indian regional languages Bengali, Gujarati, Hindi, Kannada, Malayalam, Marathi, Tamil, and Telugu. By default, the browser works in English language.
Latest News & Videos: You can get relevant news, latest happenings and other engaging videos, all in one at one place from Jio Browser.
Local News feed: You can able to customize your news feed by selecting the local News category of Browser. You can also get update with the events happening in your neighborhood.
Smooth User experience: Application UI is designed by a excellent team of experts. You will get smoothest and fastest browsing experience.
Quick access to top sites: This app have integrated quick links to some of the top Indian websites on the Internet. You just have to click on the logo of the app and start surfing.
Private Browsing: Incognito mode allows you to protect your browsing history and offer a private browsing experience
Share with Friends: This app allows you to share your favorite News or Video with your contacts on social media.
Manage Downloads & History: You can easily manage your downloads and history from the browser. You can clear cache memory, history as per your need.