Prior to the launch of Android smartphones, Nokia 4.2 was the unilateral state of mobile phones in the Indian market. However, as soon as Android smartphones started coming out of the Nokia market. Nokia has come back with an Android smartphone in the Indian market three years ago. HMD Global launches several budget and mid-range smartphones with Nokia's Android platform. Nokia was one of the best-selling smartphones in the list of flagship devices. Last year, Nokia launched several smartphones in the Indian market.
MWC In 2019, Nokia introduced Nokia 4.2, Nokia 3.2, Nokia 1 Plus and Nokia 9 Pureview. Of these four smartphones, Nokia 4.2 was launched in India last week at Rs 10,990. Will Nokia 4.2 be able to challenge the smartphone market of the budget range of the Chinese smartphone companies Radmi and Realmi in the Indian market? In this Article, we will tell you about the Nokia 4.2 Review, which makes it different from other smartphones found in this budget range.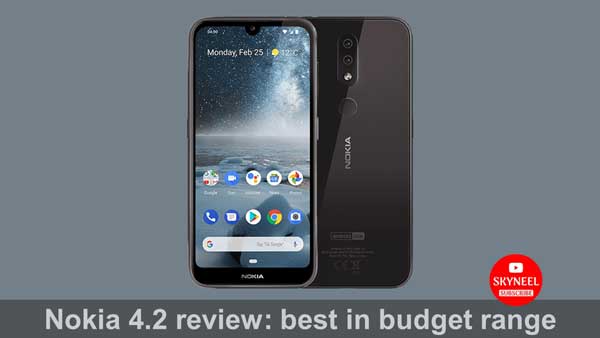 What's new in Nokia 4.2?
In Nokia 4.2, in this budget range, like every smartphone that launches this year, there are all features including Waterdrop Notch Feature, Dual Rear Camera, but Nokia 4.2 is the first smartphone that comes with a dedicated Google Assistant button equipped with Artificial Intelligence. . . Because of this Voice Assistance button, this smartphone works like calling phone i.e. you will be able to interact with your smartphone.
All you have to do is press the button of your smartphone to listen to the latest news of the world. When you press your Google Help button, this smartphone will start working according to your voice command. However, one drawback of this dedicated Voice Assist button is that it only supports Google's apps. This Voice Assistance does not support any third-party app. However, through voice assist buttons, you can read from calling to text messages.
Must Read: Oppo A5s Review: a bigger battery and budget Smartphone
How does the Google Assistant button work?
Single press
Once you press this power button you will get Google Maps, Music, Google Search and Calling options. You will be able to use these features using voice commands. This power button feature of Nokia 4.2 works entirely with Google Assistance Support.
Double press
When you press the Nokia helper power button of Nokia 4.2, this Voice Assistance gives you the Intelligence Space about the main attraction of your day. This feature gives you personalized decorations according to your interest. After double press, you get clear information about flight times, important two-to-work, bill payments and events.
Long Press
Walky-talkie mode activates as soon as the Nokia 4.2's power button is pressed. That is, you will now be able to talk to your smartphone. As long as you hold down the power button, Google Assistant keeps listening to your query. As soon as you leave the power button, it responds according to your query.
Design
Now talk about the basic features of the phone, first of all, the phone's design and build quality. Nokia 4.2's look and design will look very attractive to you. Its build quality is similar to a premium smartphone.
Must Read: How to delete Google Voice commands
Its front and back panel contains 2.5D worn glass protection. This smartphone is only diluted 8.4 mm, which makes it look quite attractive. The phone is available in two color options Black and Pink. In the front panel of the phone you have been given the Waterdrop Notch feature while its back panel has a dual rear camera and fingerprint sensor. The build quality of the phone is good and the look also looks like a premium.
Display
Talk about Nokia 4.2's display, it has a full HD quality display of 5.71 inches. Aspect ratio of display 19: 9 has been given. In the phone you will see a video with 720 pixel resolution. If I watch the video through the Youtube app, its maximum resolution is up to 720 pixels.
Nokia 4.2 Performance
Talk about Nokia 4.2's performance, so it has Qualcomm Snapdragon 439 processor. The phone comes in the same memory variant 3GB + 32GB. You can extend its internal storage to 400GB via microSD card. Dual SIM card slot is provided in the phone with dedicated MicroSD card slot. The phone supports the 4G VoLTE network.
You can get 4GB + 64GB configuration in other budgets available in this budget range. In this way, I will restore this phone to you to install a light version of social media like Facebook, Instagram. Because, if you download the main version, the phone is more storage, which can slow down the display of the smartphone.
Nokia 4.2 Camera
Talking about camera features of the phone, two cameras are given in its back. In the back, the primary rear camera is given 13 megapixels, so you can click the photo with 4: 3 ratio. With a primary rear camera, you can also shoot 1080p resolution video. The camera also has an Auto HDR feature. The secondary rear camera of the phone is given 2 megapixels.
Speaking of the phone's selfie camera, its front is a 8-megapixel selfie camera. You can also click the photo of the 4: 3 ratio with the selfie camera. Also shoot video with 1080 pixel resolution. You also get an HDR feature in the front camera. Also the selfie camera is in live BOKH mode. Nokia 4.2's camera is similar to other smartphones in this range. I will not say it much better, but in the phone's camera you find all the features that are available in other smartphones in this range.
Must Read: Smartphone can harm your neck and eyes disease, be careful
Operating System, Connectivity Battery and others
Another unique feature of Nokia 4.2 is that it comes with the Android One platform, which gives you the latest operating system and security patches from time to time. In Nokia 4.2, you will get an update of Android's latest operating system for 2 years. It gives 3,000mAh of battery to power the phone. The battery of the phone runs comfortably for one day.
Apart from this, the phone has been given micro USB charging jack, 3.5mm audio jack. You do not get earphones or headphones from the smartphone coming in this range, but Nokia has given earphones with Nokia 4.2 while retaining its legacy. You can use call reception for music. Features such as Face Unlock and fingerprint sensor for security in the phone have been given.
Our decision
After the observation of Nokia 4.2, it is clear that HMD Global has recognized the pulse of Indian users. This is why this smartphone is specially designed for users of the budget range. The phone's display is not so big, but the phone looks quite attractive. In addition, you can see the dedicated Google help button such as the USP of this smartphone. The camera of the phone is not so good, but you can click the good picture worth the social media upload from its camera. Nokia 4.2 has actually tried to challenge the Chinese smartphone brand Radmi and Reality with the budget range. We will also keep a video review of this smartphone in front of you soon.
You can subscribe to our Youtube Channel Skyneel for the latest video from other smartphone reviews and Amazon Quiz answers.
In this article, we have told you about Nokia 4.2 Review. If you liked this article, you can also like our Facebook page and also subscribe to our YouTube channel. If you have any problems related to this article, you can tell us by commenting.