OnePlus has launched OnePlus 7 and OnePlus 7 Pro in India. Both of these smartphones have established a new benchmark for all flagship Android devices that launch this year. In addition, this year also a new challenge was introduced for the Samsung Galaxy 10 and Galaxy S10+, which has already launched the smartphone. Today, our specialists are going to tell you a review of OnePlus 7 Pro in this article. Tell us what you think of this article by commenting on us.
Design
OnePlus is always known for its practical design. With OnePlus 7 Pro, the company has fulfilled the promise of "Never Settle" for its design. It's a flagship device with the biggest display of OnePlus ever so and it has been introduced with better curve design than before. The device we have is the Nebulala Blue variant of OnePlus 7 Pro, which reminds us of its past OnePlus 6 Thunder Purple.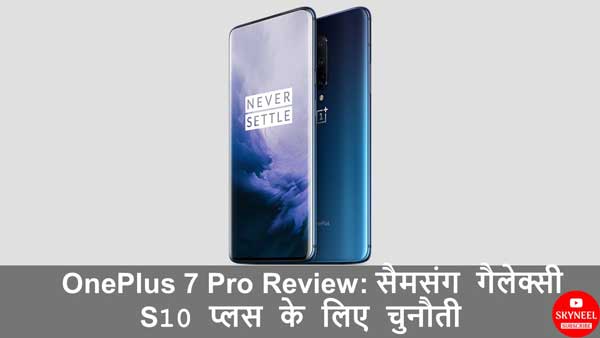 According to the company, its color is inspired by the mystery of space. The OnePlus 7 Pro Nebula Blue variant has a protection of Corning Gorilla Glass with glass's multiple layers. Due to the blue color, fingerprints have not increased in its back panel. Anti Glare material used for OnePlus 7 Pro gives a premium value in it. Apart from this, the phone comes in two other color options Mirror Gray and Allmand.
Must Read: Nokia 4.2 review: best in budget range
In OnePlus 7 Pro, which attracts you first, its big size and thicker fiddle. Its touch and grip is much better. The weight of OnePlus 7 Pro is 206 grams, which is much higher than other flagship devices. You can feel overwhelmed on this, but feel the premium. In the phone you get a bigger display without a knock. There is no physical sensor in it. It has an in-display fingerprint sensor similar to OnePlus 6T. The volume has been left to the left, while the power button on the right is given with a physical notification toggle which is a trademark of OnePlus.
Display and screen unlock
As I mentioned earlier, OnePlus 7 Pro has a larger display than all major appliances in OnePlus. In this you get full display experience without need. Its display size is 6.67 inches. It is made entirely of AMOLED and offers QHD + resolution from 90Hz refresh rate. Prior to the arrival of OnePlus 7 Pro, I thought Samsung Galaxy S 10+ is the best display but its display looks much better.
The type of fluidty given in the OnePlus 7 Pro display is not available in any other flagship device. Its identity is so good that sometimes it looks incredible. Due to the pixel density of 516ppi, it provides 4.49 million individual pixels. In OnePlus 7 Pro you will find everything that should be in any flagship smartphone in the world.
I enjoyed watching Game of Thorons in OnePlus 7 Pro, as well as good at seeing Survival One Drive to Survival on Netflix. Due to the given stereo speakers, its sound quality is much better. Indoor or outdoor, its display provides a crisp and clear view with enough brightness.
The OnePlus 7 Pro display also supports the Oxygen OS Intelligence features based on Android Pie. In the big display of OnePlus 7 Pro, you get Nightmod 2.0, which filters the effect of blueprints on the face. This is very useful for users who use smartphones more at night. The display capability of OnePlus 7 Pro can be reduced to 0.27 nit, due to which the display in the dark does not affect your eyes.
Must Read: Smartphone can harm your neck and eyes disease, be careful
OnePlus 7 Pro also supports in-display fingerprint sensor but its sensor is bigger than oneplus 6T. The Speed ​​and Accuracy of OnePlus 7 Pro's in-display fingerprint sensor has been made better than the OnePlus 6T.
Performance and Usability
OnePlus 7 Pro is the first smartphone to be launched in India, in which the Qualcomm Snapdragon 855 mobile platform has been used. This processor was introduced in December last year. It is a 7nm chipset processor that supports Octart Kyro CPU processor. This processor provides 45% better clock speed compared to Snapdragon 845 and power consumption is less than 20 percent.
This mobile chipset platform has been better used in OnePlus 7 Pro. OnePlus 7 Pro has up to 12GB of RAM. Apart from this, it also comes with 6GB and 8GB RAM options. Having a stronger RAM means that it offers more multi-tasking. If you want to take a powerful multi-tasking device, then you can take this 12 GB RAM variant. However, 6GB variants for multitasking are also sufficient.
OnePlus 7 Pro Android 9.0 works on the Oxygen OS 9.5 operating system based on Pie. In this you will get an update of the latest operating system for 2 years and apart from this, security patches will also be offered for 3 years. Oneplus is known as a company that listens to its community. In OnePlus 7 Pro you have a screen recorder that can record audio and external audio. In addition, there is a Zen mode that will show you the right side of the Quick Access panel.
There is also an improvised gaming mode that will appeal to users playing the game on smartphone. I have played games like Need for Speed ​​and PUBG in this device that get better stats than other devices. This game mode gives you better gaming performance, which allows you to play games without interruption.
The name of the gaming mode has been changed to the fantasy mode, which primarily blocks all the notifications, as well as restarting the background app gives your game a boost. In this mode, your secondary SIM is obsolete, which makes network speed even better. In it you get a 256GB storage variant with UFS 3.0 2-lane storage. Overall it will not disappoint you in multitasking, gaming and streaming.
Primary camera
OnePlus 7 Pro has triple rear camera setup which is available in this year's launch device. In addition, it has a 48 megapixel primary rear camera, which is also available in many smartphones launched this year. Its primary sensor is 48 megapixels, which comes with a 1/2 inch Super Size sensor. Its primary camera has been given an aperture of f / 1.6. Apart from this, two more secondary cameras have an 8 megapixel telephoto lens and the other is 16 megapixel ultra-wide sensor.
Must Read: Vivo Y17 Review: 5,000mAh powerful battery
Both the 48 megapixels and 8 megapixel lenses have been provided with OIS and EIS. Its telephoto can click the picture from the lens to a 3x optical zoom. Even after 3x zoom, it does not spoil the quality of the picture, which causes 78mm lenses and f / 2.4 extraction. You get better prototype mode with this lens. OnePlus 7 Pro has better camera features than OnePlus 6T. The camera has been made much better. It has the ability to click the picture of HDR +, as well as the night's site and a pro mode that makes the picture even better. It can also get better and minimal photos in low light.
Talk about the video, you can capture 4K quality video with OnePlus 7 Pro. With its ultra-wide angle lens, you get a 117-degree field-of-view. In addition, Wide Angle Imaging could click better picture than the Samsung Galaxy S10+, which was not surprising for me. OnePlus 7 Pro has camera modes like Ultra Shots, AI Seen Detection, Penorama, Studio Lighting and Raw Image.
Front camera
OnePlus has fitted a pop-up selfie camera into this flagship device. This was not surprising as we saw the Nokia feature in many of the OnePlus flagship devices. Its selfie camera has 16 megapixels which comes with f / 2.0 aperture.
OnePlus has said that he has tested the elevator mechanism of the pop-up camera three million times. This means that you can use its pop-up camera 150 times every 5 years. We have also seen a reliable pop-up mechanism in Vivo and Oppo. Its 16 megapixel selfie camera can also click on a better picture. You can use the protection mode for selfie. In the selfie taken you get the picture details. Its front selfie camera will not disappoint you too.
Battery
In OnePlus 7 Pro, you get 4,000mAh of battery, which is easy to run for one day. Its plus charger is much better than OnePlus 7 Pro battery. Like the OnePlus 6T McLaren Edition, you get Warp charge in OnePlus 7 Pro, but in this device you get Warp Charge 30. This 5V / 6A low voltage high current fast charger is 38% faster charger compared to the previous charger.
When using warp charging, the charging speed does not decrease and there is no effect on the display of the device. Also, while charging, the device does not get hot, which gives a one-day power backup for 10 minute charging.
Must Read: OnePlus 7 Pro vs iPhone XR: Who Is Better Flagship Smartphone
Our decision
We have no doubt that the price at which the OnePlus 7 Pro has been launched is the best device. There are many such features, such as Qualcomm mobile platform, Warp charging and 12 GB RAM, which are challenging to compete with other companies. OnePlus 7 Pro We researched those users who want to buy a flagship device and want to use it for years without any hassle.
In this article, we have told you about OnePlus 7 Pro Review. If you liked this article, you can also like our Facebook page and also subscribe to our YouTube channel. If you have any problems related to this article, you can tell us by commenting.