Hi friends, today most of the person has to use latest technology android smartphone. These android smartphone comes with latest apps which provide great features but these apps consume lot of battery. Most of the apps are running in the background process and they also consume lot of mobile phone battery.
If you are travelling or doing any important call to others from any public place, bus, train, or any other transportation and you don't have mobile phone charger and your phone battery is not more in that situation you will be disturbed because there is no way to charge your mobile phone battery. But now there is no need to worry Chinese Company OnePlus launched latest OnePlus 10000mAh Power Bank in Indian market. The OnePlus 10000mAh Power Bank is exclusively available for buy on the online shopping website Amazon.in, in Silk White and Sandstone Black colors at Rs.1,399 only.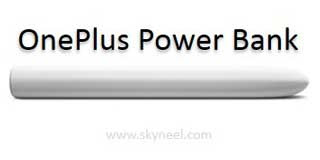 Must Read: Top Battery saving Apps for Android Smartphones
OnePlus Power Bank dimension is 142.8 x 72.6 x 16.2 and weight is 220gm with 10000mAh battery. OnePlus Power Bank has 5V/ 2A input and it will take 5.5 hours to complete recharge the battery. The OnePlus Power Bank has to USB ports to charge two devices one by one, with LED battery indicator which comes with different safety features to protect your power bank for over charging and overheating. The OnePlus Power bank comes in a box which has OnePlus Power Bank device; USB cable along with it also has one year warranty. The OnePlus Power Bank 10000mAh comes with 1,399 which has solid competition with different companies who already launched his Power Bank. Chiness Company Xiaomi's Mi Power Bank comes with 10400mAh battery which is available at Rs.999 only, Asus ZenPower portable charger comes with 10050mAh battery which is available at Rs. 1,499 and Huawei also launched his latest 13,000mAh Honor Power Bank AP007 which is available at Rs. 1,399 only.
Must Read: How to improve Android smartphone battery life with 7 tips
OnePlus India Head Mr. Vikas Agarwal already confirmed previous month that 10000mAh Power Bank is available for customers very soon in the Indian market. The OnePlus Power Bank 10000 mAh comes in Silk White and Sandstone Black colours, all the users of OnePlus Power Bank use Sandstone Black colours to match it's bank panel. The newly launched OnePlus Power Bank featuring 10000mAh battery will be up against the likes of Xiaomi's Mi 10400mAh Power Bank that is available at a lower price of Rs. 999 and the Asus ZenPower portable charger featuring 10050mAh capacity at Rs. 1,499. The OnePlus Power Bank is prepared by world-class lithium-polymer technology, which is lightweight and easy to carry.